Google Nexus 6P vs Motorola Moto X Pure Edition (2015)
19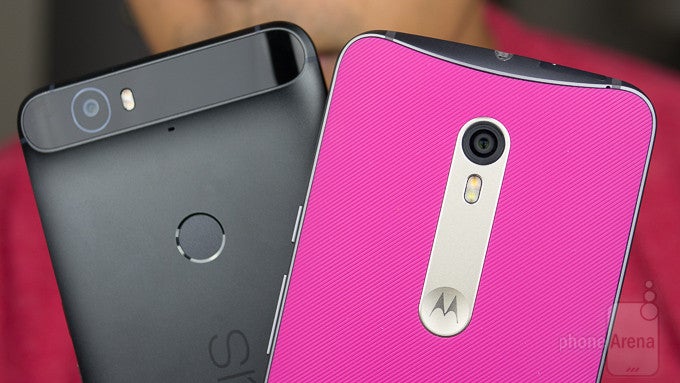 Introduction
This year, we've seen a huge shift towards delivering 'low-cost' premium smartphones – you know, high-end spec'd things under the $500 threshold. Traditionally speaking, phones positioned in the upper end of the spectrum have been priced at around $600 at the very least, but with these two smartphones in this comparison, they're radically redefining the expectations.
The
Google Nexus 6P
is undoubtedly impressive taking into account its premium metal design, which is unprecedented given the fact it's attached with a starting cost of $499.00. Equally on the same pedestal, the
Moto X Pure Edition
comes at us with a highly customizable design at an even lower, $399.99 cost of ownership. Combining killer specs with price points that undercut the competition, it'll be intriguing to find out exactly how they stack up against one another.
Design
Yet another testament to what can be achieved on such a strict budget, it's almost unfathomable that they both have attractive and compelling designs. The Nexus 6P, in particular, is stunning looking and it's the more premium one between the two – attributed to its originality, svelte profile, and aluminum construction. Yes, it's considerably longer, but its sturdy feel in the hand can't be matched by its rival.
While it's thicker and slightly heavier, the Moto X Pure Edition offers a bit more flair with its highly customizable design. In fact, no other phone can compete with the diversity and color combinations that the Moto X Pure Edition offers via Moto Maker – the online portal that allows buyers to select various colors, finishes, and accents for the phone. And on top of that, the arch to its casing gives it a slightly more ergonomic feel in the hand.
We'll certainly applaud the two for their solid efforts, showing that beautiful designs are obtainable even on a budget. If premium and sturdiness are more your forte, go with the Nexus 6P. However, if flair and style are what matters to you more, then the Moto X Pure Edition is the no-brainer selection.
The Google Nexus 6P's main distinction, aside from its premium design, is the handy fingerprint sensor slapped on its back. Having it on board enables it for Android Pay, in addition to the added level of security it offers. As for the Moto X Pure Edition, it lacks the modern convenience of a fingerprint sensor, but it comes with a microSD slot for expandable storage.
Display
They settle for nothing less than Quad-HD display! That's certainly an impressive accomplishment considering how they undercut many other phones with their low lost, but it merely indicates that it's obtainable. Details are no different with the two, since they're both endowed with 5.7-inch panels, but the Moto X Pure Edition opts to go with IPS-LCD technology – while it's AMOLED for the Nexus 6P.
On the surface, there shouldn't be any complaints about the two. As we use them day-to-day, though, we notice some superiority to the Moto X Pure Edition's display. Not only is it significantly brighter at a staggering 715 nits, making it one of the brightest screens around, but it produces colors accurately in the sRGB color gamut chart.
In comparison, the Nexus 6P achieves a maximum luminance of 356 nits, which is far from its rivals' output – making it tougher to view outdoors. At the same time, too, its color reproduction is skewed by its intense saturation on the default setting. That's unless you tinker around with the developer settings to enable the sRGB color mode, which then gives the same accuracy as its competitor.
We're mostly leaning toward the Moto X Pure Edition with this one, mainly because its potent brightness output is unmatched.
Display measurements and quality