Gigabyte GSmart Roma R2 Review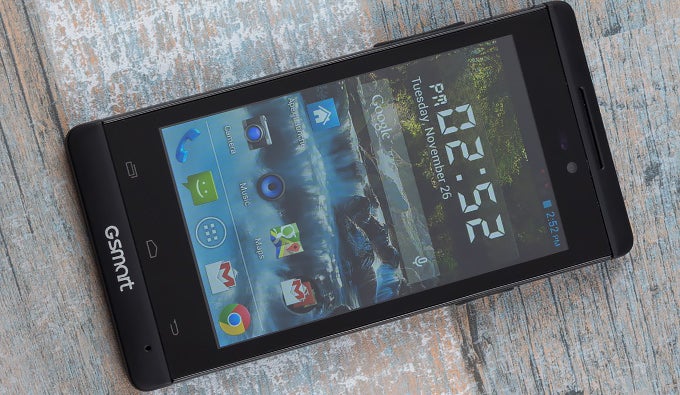 Introduction
The
Gigabyte GSmart Roma R2
is an affordable Android smartphone and that puts it in the same category with a myriad of devices. Can it manage to hold its own and stand out? Packing a 4-inch display, dual-core processor and a 5-megapixel camera in a compact well looking body, this $150ff-contract price, by the way) device comes with the promise of value for the money that not every device has and that alone is captivating.
The GSmart Roma R2 is also not a device for every market. It aims squarely at developing countries where people often have two SIM cards from different carriers to save on their bills. The Roma R2 does come with this dual SIM connectivity, which is a plus.
However, as any affordable device it does come with some compromises. Are those reasonable, though? We'll be looking for a balance of a decent screen, good enough camera, mostly smooth performance and pleasing design. Let's see if we can find them in the Roma R2.
In the box:
Wall Charger
USB Cable
Headphones
User Manual
Design
The GSmart Roma R2 is a small and compact device with a nice soft touch matte plastic finish on its back. It comfortably fits in even smaller hands and is a joy to use single-handedly.
It's a device put solidly together and its matte plastic cover does not screak when you hold it tighter. Actually, the matte front and back give the impression of a very tough device, almost as if it was a rugged phone (it is not).
The handset comes with three capacitive Android navigation buttons below the screen and with large and very clicky, easy to press physical keys on the side. The lock key is on the right and is larger than any other lock button we've seen, while the volume rocker is on the left. On the back, there's a 5-megapixel camera with a single-LED flash, all placed on a small glossy strip of plastic, contrasting with the otherwise matte look of the device. A microUSB port and a headphone jack are on located on top.
Display
The GSmart Roma R2 ships with a 4-inch IPS LCD display with a resolution of 480 x 800 pixels. With a pixel density of 233ppi this is not the sharpest screen out there, but it is at or even above the average for its class and the display is still legible for all but tiny text. There's none of the issues of similarly priced devices where jagged text makes reading very hard unless you zoom in very closely.
We cannot expect a high-class screen on such an affordable device, so we set our expectations low, but the Roma R2 exceeded them as the screen actually has comparatively rich and vibrant color. There is however a slight but noticeable bluish tint and images tend to look colder than we like in a perfect-case scenario.
For outdoor use, the screen gets fairly bright and that's a plus, but it is also very reflective, so overall you can see what's on it, but it's not as legible as we'd like. Viewing angles were once again good for its class as we're dealing with an IPS panel here. If we had to nitpick, we'd say you can see colors wash out slightly when you tilt the display, though.
Display measurements and quality