Fujitsu Stylistic Review
2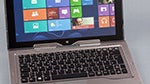 Introduction:
The Fujitsu Stylistic Q702 is an 11.6-inch hybrid tablet/notebook computer running a full blown Windows 8 on an Intel Core i3 or i5 chip. That makes it a truly outstanding performer, clearly targeting business, and it even offers optional 4G/LTE support to sweeten the deal.
Looking at the spec sheet alone, you'd easily mistake the Fujitsu Stylistic Q702 for an ultrabook, and rightly so. The device features not just an Intel Core chip, but also a solid-state disk drive of up to 128GB capacity. Being a hybrid, it comes with an attachable keyboard dock, turning it into a fully-featured notebook and boosting battery capacity significantly.
A jack of all trades, the Stylistic Q702 aims to be both a tablet and a notebook, and that's when its ambitions start to seem like too tall of an order. At 11.6 inches it stretches the tablet form factor limits, and on its own it can only last around 5 hours, half of even the worst Android and iOS alternatives.
With a no-compromise processor, is it too much of a compromise in everything else? Let's find out.
In the box:
Wall charger
Driver, manual, utilities, recovery discs
Stylus accessories
Cleaning cloth
Design:
Design on the Fujitsu Stylistic Q702 is bland at best. At worst, it's absent. As much as we like having a Core i5 chip, as much as we like ports and buttons, there are some compromises that have to be embraced in order for the tablet form factor to work, and that would be our main perspective here. As a tablet, the Stylistic Q702 is too huge to be usable. What's worse it's so heavy we could use it as a warm-up weight (it weighs nearly 2 pounds - 1.87lbs or 850 grams to be exact!). The awkward 11.6-inch screen is too big to hold in one hand and when you try to do that you'd naturally hold it diagonally to somehow balance the excruciating weight. You can hold it with two hands, but then you'd need to constantly lift one of your hands to flick-scroll through say pages in an ebook because you simply cannot do this with only your thumb.
Build quality is okay, but far from impressive. Despite Fujitsu's claims for a 'solid magnesium cover,' the tablet feels like any other matte plastic tablet.
The Stylistic Q702 is an abominable 13mm, or more than half an inch,
thick
. That extra thickness frees space for all sorts of buttons on the sides and Fujitsu has them all there, just in case. There is a USB 2.0, USB 3.0, and a full-sized HDMI port. Then you have a 3.5mm jack, a separate opening for a mic, a separate toggle for turning Wi-Fi on and off, another toggle to power the device on and off. Then, you have a volume up and down buttons, and a screen rotation lock key (all too recessed to be comfortable to press). On the back you have a fingerprint scanner, and even a strap loop. With only a couple more additions, it could compete with a Swiss knife!
The irony of it all is in the name - Fujitsu somehow decided to name a bulky device with little style Stylistic Q702...
Screen:
The Fujitsu Stylistic Q702 features an
11.6-inch touch screen
. It is a matte panel with a
resolution of 1366 x 768 pixels
. On such a large screen in a tablet form factor where the device is supposed to stand much closer to your eyes than say a notebook, jagged pixels are definitely noticeable in a bad way.
We like the matte screen, but glare is still an issue
outdoors
(less than on a glossy screen, but still). Under direct sunlight, the display is barely visible, due to its weak brightness. Fujitsu uses an AH-IPS panel here, and while this sounds good on paper, viewing angles are not that wide and definitely start to wash out a lot at more extreme angles. The overall
color representation
seems muted, with washed out colors, lacking in sharpness almost as if you are looking at a blurred, bleak mirror-image. The air gap between the cover glass and the actual LCD display is also huge.
The display comes with a dual digitizer supporting both pen and finger input. It is of course capacitive, with 10-finger multitouch support and worked perfectly well with touch.
Keyboard dock:
The 11.6-inch tablet can dock into the keyboard (it costs $269 in addition to the price of the tablet), to transform into a notebook. The tablet clicks easily and snugly in the dock via a sturdy
latch mechanism
.
The
keyboard station
itself is much more solid than the tablet. It is made out of aluminum with a brushed metal finish. Keys on the chiclet keyboard seem a bit cramped at first, but turned out surprisingly comfortable to use. Still, those with larger fingers will definitely have an issue with their small size. The touchpad is too small, and you have to install additional drivers to enable gestures on it. Even with them on, it feels much easier just reaching for the touch screen for the simpler gestures.
The
dock
comes with a
removable battery pack
that adds a whopping 6 hours of longevity. This brings the total to a respectable over 11 hours when you use the Stylistic Q702 as a notebook. It also even further enriches the
port selection
adding an ethernet port, another two USB ports and even a VGA port for your old external monitor.
In the dock is also a
stylus
that easily pops out. It's been said before and we'll repeat it again - sketching on such a hybrid device actually makes a lot of sense. The experience is great with the touch optimized Windows 8, and a stylus definitely adds a lot of value to this type of devices.