Aliph Jawbone Review
2

Introduction:
We humansare set up in a way, that stimulates the constant desire for improvement andthis is one of the reasons for us to evolve and to perfect ourselves. Producersand designers set to work all their innovative ideas and creativity for coming upwith better solutions in order to satisfy our needs.This is in full force for the constantlydeveloping mobile technologies.
Producersin this industry offer many devices for achieving the maximum comfort level forusers and the so called Handsfree is one of them. Using the device you can talkon the phone while driving or working on a computer for example, without yourhands being occupied.
Followingthe development of these accessories we see that they've been getting lighterand more compact in size and after the Bluetooth technology emerged manywireless solutions became available.
Today we are going to examine an interesting offer from Aliph. This is a company, founded in 1999, and its activities focus on the development of mobile audio products. Since 2002 Aliph's technologies are being optimized in order to ensure better communication in bad conditions for DARPA (Defense Advanced Research Projects Agency). The DARPA is the central research and development organization for the Department of Defense.
The first consumer product of Aliph is Jawbone – a Bluetooth headset with a unique design and promising technologies. One of the most important things for mobile services' consumers is the quality connection during conversation. Usually, during unfavorable conditions communication is disturbed by noise coming from wind, loud music or just the sounds of a hectic city.
Well, now "NOISE IS NOTHING" or at least they say so from Aliph. Jawbone comes with a built-in so called "Noise Shield Technology", which promises to eliminate all background noises, so that you can have a normal conversation.
Stay with us to check whether this actually works and to what extent promises coincide with reality.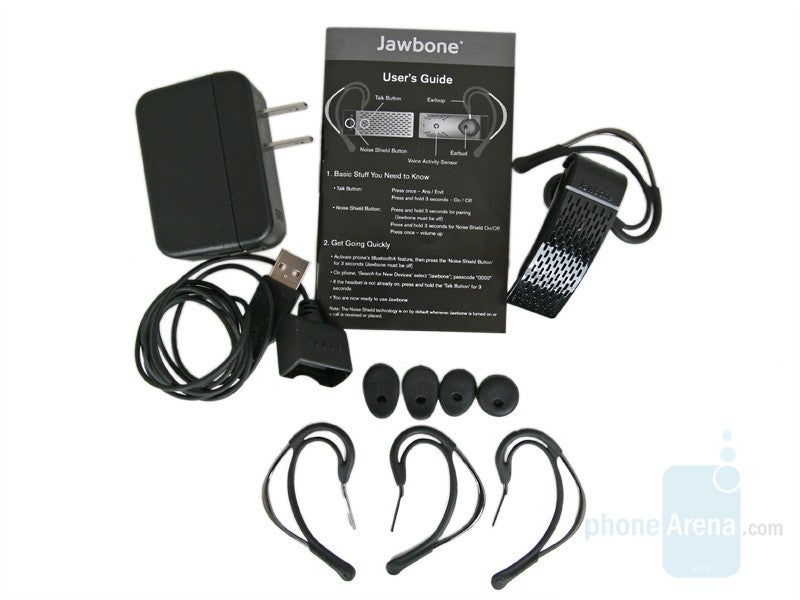 Jawbone comes in a hard transparent plastic box, as the phone is the only things seen and the rest of the things in the set are covered with a black cardboard package. Inside you will find the following:
Jawbone headset
4 earloops – 2 Standard and 2 Long
4 earbuds and 1 on the device itself
Wall charger with a USB socket
USB charger cable
User guide
The headset is placed in the box on a specially crafted transparent stand and this way it looks more as an exhibition piece from a precious art collection than a Bluetooth receiver.
Since the stand is mobile, later you can use it to place the headset, when not in use, or when charging.
Recommended Stories