Alcatel OneTouch Watch Review
1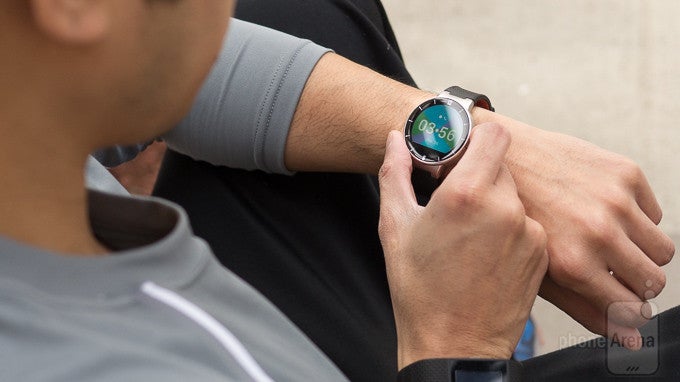 Introduction
Alcatel surprised many during CES 2015, when it announced a peculiar smartwatch of sorts. At first thought, most folks believed they were entering the Android Wear community, but that didn't quite become the reality, as the Alcatel OneTouch Watch turned out to be compatible with both Android and iOS devices. In a way, that one unique perk gives it a step up over its Android Wear counterparts, since their reach is only limited to Android devices. Having so many options to choose from in the space, can the Alcatel OneTouch Watch deliver the punch to make it a contender?
Design
Compact, round face watch style, metal casing, and its IP67 construction makes this one attractive.
Impressively, Alcatel has fashioned something compelling with the OneTouch Watch – it's good-looking, solidly constructed, and it's pretty compact in size. Of course, comparisons will be drawn to the Moto 360, but we'd still give Alcatel kudos for producing something that feels and looks good. That's partly because they decided to go with the round face watch design, which definitely gives it that classical timepiece association. Naturally, its relatively small size will undoubtedly appease those with smaller wrists, as it boasts a more practical proportion.
Sporting a metal casing, it absolutely gives the OneTouch Watch that high quality feel. The only sore spot in its design is found in the tick marks and numbers found hugging the outside area of the watch face – it serves no real purpose. Instead, it would've been better if were just a clean surface, giving it a better, more uniform look.
Unfortunately, the rubbery textured wrist strap cannot be replaced. That's a bummer for those expecting to swap bands, but Alcatel's decision is without warrant. In fact, there are two main reasons why they decided to go with this particular implementation. First, the strap features an NFC tag for easy initial setup. Secondly, rather than going with a proprietary charging system, Alcatel has embedded the charger into the end of the band – so there's no fiddling around with cables or adapters to charge it. Still, it would have been nice to have the option of changing the band to a different style, since the stock one is decidedly sporty.
Rounding things out, there's a heart rate sensor on the underside of the Alcatel OneTouch Watch – while a single button on its right side turns on the display. In terms of comfort, the strap is adjustable to accommodate various wrist sizes. On top of that, the rubbery material feels soft over the skin, allowing it to hug the wrist without too much discomfort. Oh yeah, it's also IP67 certified to make it dustproof and to protect it from submersion.
Display
Surprisingly, the display bears some good qualities in making it viewable in all sorts of conditions.
For what it is, the 1.22-inch 240 x 204 display is effective for all practical use. Sure, it's not the most detailed thing we've come across, but its potent brightness output, neutral color reproduction, and decent viewing angles makes it easy to use in all sorts of conditions – even outdoors with the sun present. Upon closer inspection, however, one can notice that it has the same "flat tire" shape of the Moto 360, where the bottom portion is flat. Alcatel has chosen to reserve this area for the "back" function, so pressing on it will perform it.
Pressing the button on its side, or flicking out the wrist to turn on the display, the first thing we're greeted to is the time. Tapping on the screen then gets us to the main menu, which contains icons to some of its functions. What's nice is that we have access to data directly through the display, rather than going through the app to see fitness data. Showing off its "smart" function, we can even view notifications at any time by swiping up from the bottom bezel. Generally speaking, these notifications are more like previews, but some dish up more information.