Alcatel One Touch Idol Review
10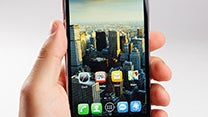 Introduction:
Annouced in early 2013, the
Alcatel One Touch Idol
is a mid-range Android smartphone aiming to meet the demand for affordable, large-screened smartphones. It stands out with its 4.7-inch IPS LCD panel, but that isn't all that potential buyers may be attracted by. Alcatel has managed to trim down the smartphone's thickness to just 7.9-millimeters, and the result is one slim, sexy phone. Under the hood, however, things don't quite look so good as the Idol packs just a humble dual-core processor running at 1GHz. Still, at $300 unsubsidized, it should be a worthy pick, right? Well, don't be so sure about that. Let us walk you through all you need to know about the Alcatel One Touch Idol.
Box contents:
Wall charger
microUSB cable
Wired stereo headset with microphone
Quick start guide
Alcatel One Touch Idol Unboxing:
Design:
So we took the Alcatel One Touch Idol out of its retail packaging only to be surprised by how light it was. As a matter of fact, it ranks among the lightest smartphones with a screen of this size (4.7 inches), tipping the scales at only 110 grams. The handset is not only super light, but it is also very thin, with a thickness of 7.9 millimeters, as long as we don't take into account the hump where the protruding camera sensor resides. Despite the large size of its screen, the smartphone is narrow enough to be usable with a single hand, although the experience may vary depending on the size of the user's hands.
Overall, the Alcatel One Touch Idol is a sleek, elegant device that looks quite appealing for its class. Its non-removable back plate has been treated with a brushed metal finish, which looks nice and resists fingerprints well. The phone does have a cheap feel, however, and our fingers can easily tell that the phone's entire shell is made of colored plastic.
Note that we''re reviewing the pink variant of the Alcatel One Touch Idol, but in case that's not your favorite
color
, the handset is also available in silver, black, red, green, and blue.
Three capacitive Android buttons reside underneath the smartphone''s screen. Since they are well spaced out and far enough from the display''s bottom edge, accidental presses are extremely rare. The volume rocker is on the right side of the Alcatel One Touch Idol and it protrudes well enough to be operated comfortably. Also on the sides are placed the slots for the SIM cards (assuming you have the dual-SIM model of the device). These, however, are tricky to have their protective covers removed with bare fingers, so a tool, such as a paper clip or something similar, would be required in order to pop a Micro SIM card in. The power key is on top and that's a solution we are no't very happy with. Not that the placement of the power button is terrible, but we find its position too far from our index finger, which is why we can''t reach it easily.
Display:
The Alcatel One Touch Idol stands out with its large display, measuring
4.7 inches in diagonal
. It is worth noting that screens of this size are rarely seen on brand-name smartphones priced so low. The resolution of the panel, however, is average at best –
540 by 960 pixels
, which translates into a pixel density of about 236ppi. This is by no means a deal breaker, of course, but as a result, pixelation is quite noticeable.
Alcatel has used a layer of scratch-resistant DragonTrail glass for its One Touch Idol, covered with oleophobic coating to prevent fingerprints from sticking to it. We're happy to see that the screen has wide
viewing angles
and quite accurate color representation. It is also usable outdoors, as long as the sun is not shining straight at it. The brightness of the backlight, however, is clearly uneven on our review unit. In other words, some areas of the screen look brighter than others. At this time we aren't sure whether this issue is common among Alcatel One Touch Idol smartphones or not.