WhatsApp introduces "joinable calls" for your convenience
1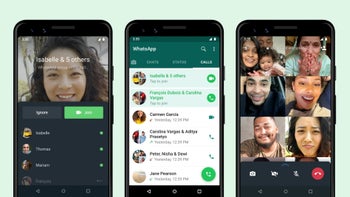 Never miss a call again
. That's the slogan behind the new feature that WhatsApp is already rolling out. The company calls it "Joinable calls" and it's pretty self-explanatory.
Starting today, people should be able to join a group call even after it's already started. For sure it's a useful feature - giving people more freedom and less "answer-right-away" anxiety when dealing with group calls.
WhatsApp users will also be able to drop off group calls and rejoin at a later time, given the call is still on. According to the company, this new feature should encourage spontaneous calls and fun conversations but it's a convenience tool more than anything else.
WhatsApp is also adding a call info screen so people can see who is already on the call, and who has been invited but not yet joined. You can simply tap the "Ignore" button if you don't feel like answering the group call and join in later. Here's a
detailed guide
on WhatsApp group calls.
It seems that WhatsApp is constantly working on adding new features and functionalities, which can't be a bad thing, right? Yesterday
WhatsApp cloud backups got end-to-end encryption
, and the long-awaited
Multi-device support on WhatsApp is coming soon
.