webOS coming to all HP PCs starting next year
7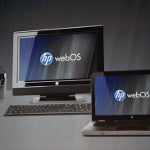 Just when you started thinking therewas a clear line drawn between PCs and tablets, HP's very own LeoApotheker announced that every PC shipped by the company willcome with webOS on board along with the standard Windows starting next year. "HPhas lost its soul," Apotheker said and justified the decision asone that will bring more developers and apps to webOS. This will helpthe company find that lost soul and create a unified platform for arange of devices. Currently, the mobile operating system developed inPalm, which HP acquired in April 2010, has only around 6,000applications in its App Catalog, far less than the 350,000 in theApp Store.
"You create a massive platform,"Apotheker added to clarify his aim to bring webOS as adifferentiating factor for all of HP's products including phones,tablets and PCs. Just over a month ago, he noted the importance of bringing more "cool" products faster infront of a huge audience of HP employess in India.
But for phone geeks like us, adoptingwebOS for PCs comes to prove the importance of synergy, which to no surprise should be best represented on HP's upcoming mobile devices. Recently, Apple also included elements of its iOS in thelatest OS X Lion, and judging by HP's senior executive words thismarriage between mobile and desktop platforms will be a long andhappy one.

source: Bloomberg