Action-adventure Lara Croft Reloaded drops on iOS and Android on Valentine's Day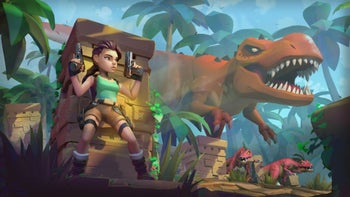 Lara Croft Reloaded is the first title in the beloved series to be released after Square Enix sold the IP to Embracer Group last year. An action-adventure at its core, Lara Croft Reloaded is set for release on iOS and Android on February 14.
The launch of
Lara Croft Reloaded
marks another premiere for the franchise, as this will also be the first roguelike Tomb Raider game. Developed by Emerald City, the game puts players into the boots of the iconic hero Lara Croft on her quest to obtain an ancient artifact (it's always about ancient artifacts).
As players progress through each level, they will be able to stack perks to further improve Lara Croft's abilities, and craft weapons to upgrade her arsenal. Specific boosts can be obtained throughout the game as permanent rewards, including XP modifiers, runes that enhance various stats, and manuals that unlock and upgrade Lara's outfits.
To bring the game closer to what the franchise has meant for millions of fans, the game was developed in collaboration with Crystal Dynamics, the studio behind many previous Tomb Raider games. On top of that, actress Keeley Hawes (Tomb Raider: Legend, Tomb Raider: Anniversary, Tomb Raider: Underworld, Lara Croft and the Guardian of Light, Lara Croft and the Temple of Osiris) will reprise her role as Lara Croft.
Fans of the franchise will recognize some of the iconic characters that made appearance in previous games, including Winston, Anaya Imanu, and Werner Von Croy. Lara Croft Reloaded will be available for free and will include in-app purchases. It will also feature daily and weekly challenges on rotation, as well as additional modes that reward extra treasures for each milestone reached.
More importantly, Tomb Raider Reloaded will launch on Netflix, included with all memberships, without ads or in-app purchases. Pre-registration is also available on Android ahead of the game's release on February 14. Players who
pre-register via Google Play Store
will receive a unique Golden version of Lara Croft's dual pistols.