Apple CEO Tim Cook nails Facebook with the perfect response
18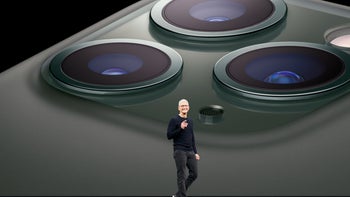 On Wednesday and Thursday,
Facebook published full-page ads in major newspapers attacking Apple
for its upcoming privacy policies for iOS 14. Apple will allow users to opt out of ad tracking. Companies that don't follow Apple's rules could be kicked out of the App Store. Facebook's argument is that the new rules will be "devastating" to small businesses and will "irrevocably damage the internet."
Facebook isn't known for its altruistic behavior, so if you assume that there is something more behind this sudden care for small businesses on Facebook's part, you're right. Under Apple's new policy offering iOS users the ability to opt-out of ad tracking. Facebook is expected to see a drop in its revenue as well. Facebook had previously stated that it expected as much as a 50% drop in its ad revenue when Apple's new plan goes into effect. However, Facebook now sees a potential 60% decline in ad revenue when the new rules start early in 2021. Again, under the new policy, iOS users are informed when an app wants to track them and asks whether that is acceptable to them or whether the user rejects the tracking.
Apple CEO Tim Cook turned to Twitter
to comment on Facebook's ads. The executive wrote that "We believe users should have the choice over the data that is being collected about them and how it's used. Facebook can continue to track users across apps and websites as before, App Tracking Transparency in iOS 14 will just require that they ask for your permission first." A new feature in the App Store is supposed to allow users to discover what their personal data will be used for before an app is installed.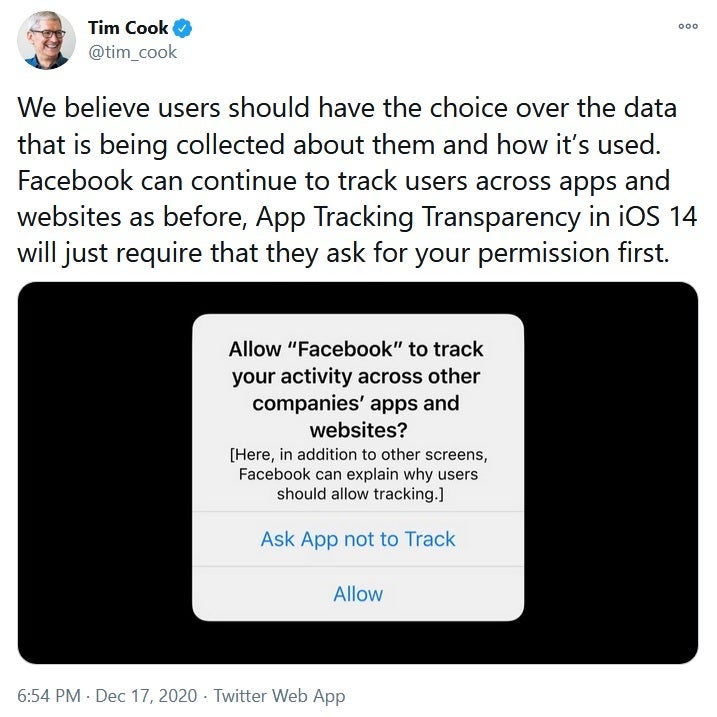 Apple CEO Tim Cook responds on Twitter to Facebook's newspaper ads against Apple
While Facebook communicated its feelings about Apple through the newspaper ads, it also said that it would help Epic Games in its lawsuit against Apple. You might recall that earlier this year
Apple
threw Epic's popular Fortnite game out of the App Store when the developer broke Apple's rules and offered game players the opportunity to make in-app purchases directly through Epic's own payment platform bypassing Apple's system. This prevented Apple from taking 30% of the cost of the transaction and led Epic to file a suit against Apple.
Obviously Facebook believes that not too many of its users will decide to opt-in to the ad tracking.