Device expected this spring touted as possible iPhone successor
4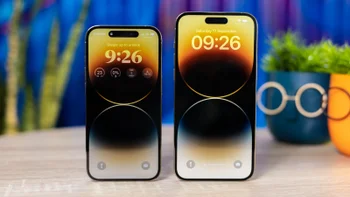 According to
The Wall Street Journal
, two former
Apple
executives have created a startup firm called Humane. Imran Chaudhri and Bethany Bongiorno started the company which is expected to release a new AI-based consumer product this spring.
Humane just completed a third funding round
that brought $100 million into the firm after collecting $130 million during the first two rounds.
Humane also has a couple of important partners such as ChatGPT creator OpenAI and Microsoft. The latter is a big investor in OpenAI and integrating ChatGPT into Bing has already taken the search engine's active daily users count to 100 million.
It's unclear what kind of product Humane is working on. However, there have been some patents published that give the impression that this device will be a wearable. The
Journal
says that the device could project a display (possibly on your hand) that users will be able to interact with. However, John Gruber of
Daring Fireball
shares a low-res copy of a 2021 investor pitch deck from Humane and the device mentioned (it might not be the same one coming this spring) is an always-on AI-connected camera that saves images (photos and videos) to the cloud.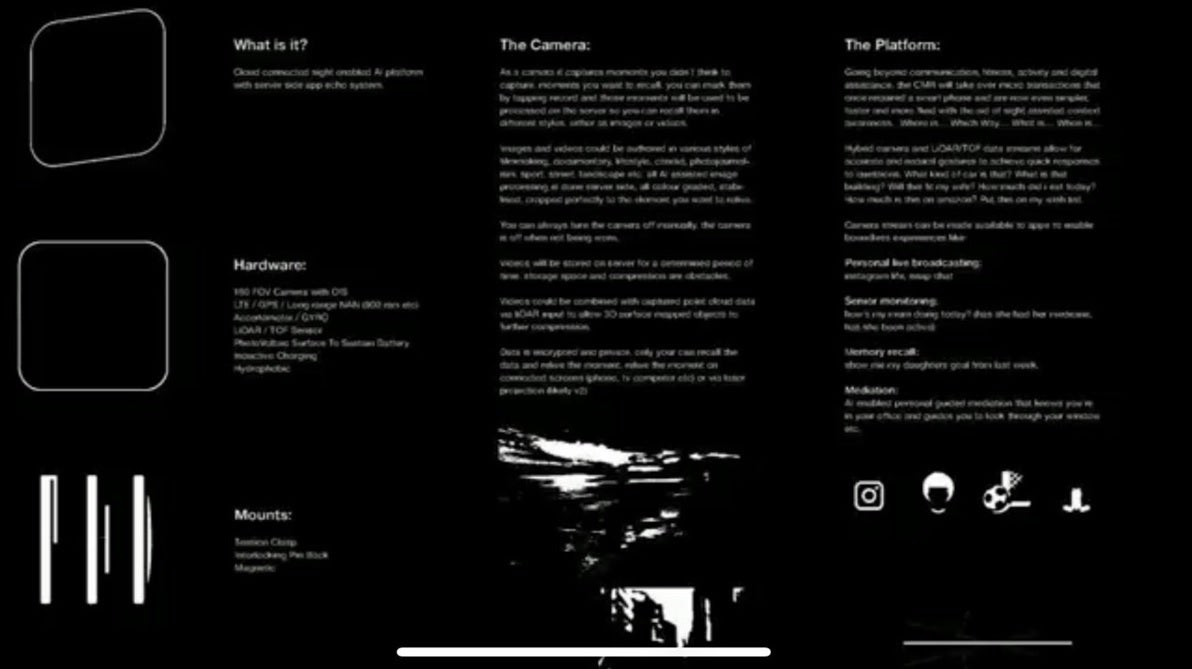 Image from the 2021 Humane investor pitch deck
The pitch deck, as noted, is in low resolution but it does mention using LiDAR and Time of Flight streams that allow the device to respond quickly to questions such as "What kind of car is this?" with the camera pointed at an automobile. Other questions that the device might answer according to the pitch deck include "Which building is this?" "Will this fit my wife?" "How much did I eat today?" and "How much is this on Amazon?" Gruber says that he has been told that Apple is not interested in taking a stake in or in buying Humane.
According to the pitch deck, the device can "take over "micro-transactions that once required a smartphone and are now even faster, simpler, and more fluid with the aid of sight-assisted context awareness." Whether the device will need a smartphone to operate is not known. The camera feed can be used to enhance live streams being broadcast via smartphone apps and the examples given were Instagram and Snapchat.
Considering that OpenAI is involved with the company, you can bet your bottom dollar that ChatGPT will be involved in some way with this product.

Mr. Chaudhri was once Apple's former director of design for the company's human interface team. This team focuses on the user experiences of Apple devices. Ms. Bongiorno was a director for Apple's operating system. Another Humane employee, Patrick Gates, is a former senior director of engineering at Apple.
Whether such a device will, or even can replace the iPhone is a little too early to think about right now considering the limited information about it. However, considering that the rumored AR-powered Apple Glasses (not the upcoming AR/VR Reality Pro headset) has long been considered a possible successor to the iPhone, this device seems to be created from the same mold.