Target announces official support for Samsung Pay and Google Pay in addition to Apple Pay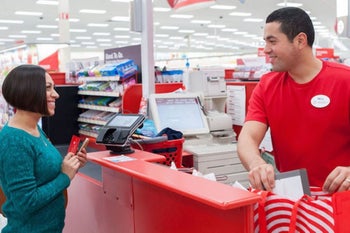 Apple may have stolen the limelight yesterday by
boasting about its latest high-profile partnership
with a major US retailer in the quest for nationwide digital wallet ubiquity, but
Target actually made an announcement of its own
to confirm support for more than one new mobile payment solution.

Starting sometime "soon", all 1,850 Target locations across the US will accept Google Pay and Samsung Pay in addition to Apple Pay for fast, convenient, and secure checkout.

The move is particularly notable for Apple and Google, as Samsung Pay was technically (albeit unofficially) supported at Target already, courtesy of a technology called Magnetic Secure Transmission (MST).
Basically, what Target is doing is finally getting with the times (and competitors like
Costco
or
7-Eleven
), embracing the NFC (near field communication) functionality powering Apple Pay and Google Pay. Samsung Pay combines NFC and MST for wide-scale coverage, although curiously enough,
the company's latest smartwatch
relies exclusively on the former standard for wrist payments.

Back to Target, it's important to point out the retailer's hugely popular REDcards cannot be added to Apple Pay, Google Pay, or Samsung Pay at the moment, so if you don't want to give up your 5 percent savings on everything Target sells, you'll still need to use the Wallet feature in the company's very own app.

Otherwise, the third-party mobile payment platforms are more than capable of securely storing credit and debit cards issued by hundreds of US banks that you can then (virtually) use at checkout terminals for one-tap transactions.

Last but not least, Target is also looking to embrace contactless cards from Mastercard, Visa, American Express, and Discover in "all stores" for those seeking the convenience of this type of payment method, as well as the traditional feel of a piece of plastic in their pockets.