7-Eleven stores land Apple Pay support, late-night munchers now only need an iPhone
8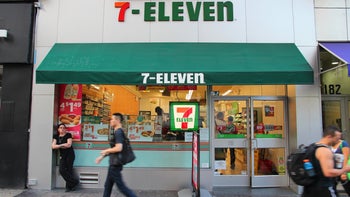 Apple may keep
striking deals
with various banking institutions about its mobile payment system, but when Apple Pay arrives at 7-Eleven, you know the company has finally made it.
We kid, but one of America's most legendary store chains issued a press release confirming what Tim Cook promised at the last quarterly results press conference - that it is rolling out support for Apple Pay across its thousands of locations across the nation. According to 7-Eleven's Chief Information Officer:
Frictionless experiences are the future, and digital payments are key to such experiences. Consumers prefer shopping at retailers that offer digital payment capabilities. The ability to pay with their smart device gives consumers one more reason to shop at 7-Eleven.

The chain already supports Samsung Pay, but, given that more than 40% of Americans now carry iPhones, support for Apple Pay is arguably a long-overdue move. You know, when you get the munchies at night, and you are short on cash, and you never leave the house with your phone, who you're gonna call? 7-Eleven's mobile payment options, that's who.
7-Eleven Gets 'Smart' with New Digital Payment Offerings

IRVING, Texas, Sept. 10, 2018 /PRNewswire/ — For many smartphone users, shopping at 7-Eleven stores will just got even faster and more convenient with the touch of their smartphone or smartwatch. 7-Eleven, Inc. – the largest chain in the convenience retailing industry – now accepts Apple Pay, which is transforming mobile payments with an easy, secure and private way to pay, and Google Pay for contactless payments at participating U.S. stores.

Support for each service is expected at most U.S. stores throughout September and adds to the company's portfolio of mobile payment options that includes Samsung Pay.

"Frictionless experiences are the future, and digital payments are key to such experiences. Consumers prefer shopping at retailers that offer digital payment capabilities," said Gurmeet Singh CDO and CIO of 7-Eleven. "The ability to pay with their smart device gives consumers one more reason to shop at 7-Eleven."

Other recent digital innovations include:

7-Eleven NOW™ – The proprietary smartphone app, currently being rolled out into select U.S. markets, enables on-demand ordering of products from local 7-Eleven stores, and offers Apple Pay as a payment option.
7Rewards® – The popular app-based customer loyalty program allows customers to earn and redeem points upon checkout. The app also provides unique and exciting customer experiences in and out of stores.
7-Eleven Bot on Messenger –7-Eleven fans can engage with the brand from within Facebook by simply chatting the 7-Eleven Bot on Facebook Messenger.
Amazon – The in-store package pickup service, Amazon Locker, is in approximately 1,100 7-Eleven stores; and Amazon Cash may be used at more than 8,000 locations.
BillPay – The app powered by PayNearMe enables cash users to pay a variety of bills at participating 7‑Eleven stores.
"The goal is to adopt consumer-facing technology to enhance the customer experiences," continues Singh, "as well as the technologies that work behind the scenes to ensure seamless and effortless interactions. We continue to transform our business through digital, and these additional mobile payment options are the latest enhancements we have added to our in-and-out-of-store customer experiences."

Security and privacy is at the core of Apple Pay. When you use a credit or debit card with Apple Pay, the actual card numbers are not stored on the device, nor on Apple servers. Instead, a unique Device Account Number is assigned, encrypted and securely stored in the Secure Element on your device. Each transaction is authorized with a one-time unique dynamic security code.

Apple Pay is easy to set up and users will continue to receive all of the rewards and benefits offered by credit and debit cards. In stores, Apple Pay works with iPhone SE, iPhone 6 and later, and Apple Watch. For more information on Apple Pay, visit: http://www.apple.com/apple-pay/

Google Pay is the fast, simple way to pay in millions of places – online, in stores, and more. It brings together everything you need at checkout and keeps your information safe and secure. Plus, you can manage your account wherever you want – on the web or in the app. With Google Pay, you can check out in hundreds of apps without having to enter your payment information. Catch a ride, order takeout, or get tickets to that just-announced show with the simple press of a button. For more information on Google Pay, visit: https://pay.google.com/about/

For more information about other 7‑Eleven innovations, visit www.7‑Eleven.com