If you use a certain iPhone charging cable, you need to return it and ask for a refund ASAP
7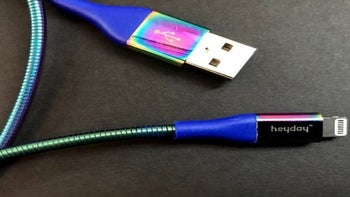 While it's generally a good idea to buy all your iPhone or iPad accessories directly from Apple, major retailers like Target also sell plenty of MFi (Made for iPhone/iPod/iPad)-certified stuff at very competitive prices that should be safe to use, theoretically meeting Cupertino's standards and strict quality requirements.
Unfortunately, accidents sometimes happen and things that are supposed to work flawlessly performing the simplest tasks... fail to do so. Case in point, a specific Lightning to USB cable that Target charged around $15 for, undercutting Apple's official charging solutions. After receiving 14 reports of incidents involving smoke, sparks, and full-on fires, including two that caused burns to consumer fingers, the retailer was left with no choice but to
recall the obviously defective and dangerous cables
.
If you own one of the
90,000 units sold between June 2018 and January 2019
nationwide, you are hereby urged to immediately stop using the product and return the recalled cable to any Target store in exchange for a full refund. Said refund can cover the purchase of a different Heyday charging cable for your iPhone or iPad, as Target still sells a bunch of MFi-certified products under that name. Or you could just take the 15 bucks, add $4 on top of that, and buy an official Apple-made Lightning to USB cable with a length of 1 meter.
To be perfectly clear, Target is only recalling one particular model of its Heyday Lightning USB charging cable. You should be able to recognize the faulty 3 foot cord by the word "heyday" printed on its connector and model number 080 08 8261 printed on the side of the product's packaging.
In case you're wondering, the problem is the metal around the cord, which can become "electrically charged" if it contacts the USB wall charger plug prongs while charging, posing "shock and fire hazards." That's serious stuff, folks, so let's not mess around and risk bodily harm due to laziness.