T-Mobile has big network congestion problems in California, new study finds
6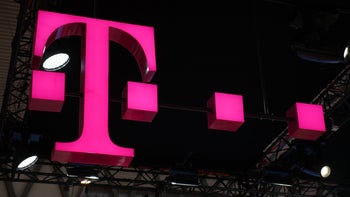 While
average download speeds
(the higher the better) and latency (the lower the better) are the most commonly used indicators to rank the overall quality of cellular networks, congestion can sometimes have a greater impact on the real-life user experience, frustrating a certain carrier's subscriber to the point of switching operators just to get a more stable connection.
This is a phenomenon that affects all big four US carriers in pretty much equal measure, but naturally, the degree of network congestion customers are often subjected to varies from region to region, as well as from service provider to service provider. On T-Mobile, for instance,
a recent report conducted by Tutela Technologies
found the biggest congestion issues in four cities across California and an additional market in Michigan.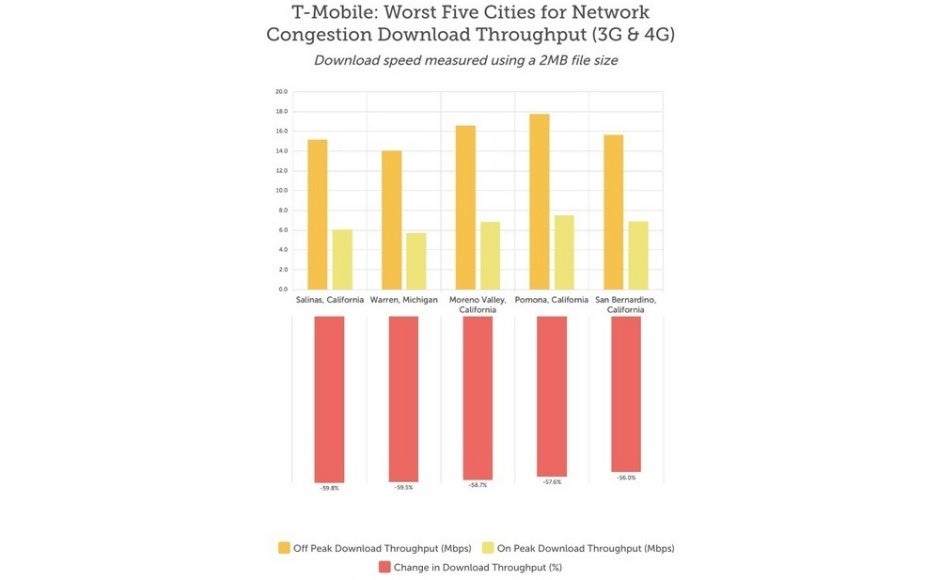 As a result of these problems, download rates fluctuated by as much as 59.8 percent in Salinas, California, 59.5 percent in Warren, Michigan, 58.7 percent in Moreno Valley, California, 57.6 percent in Pomona, California, and 56 percent in San Bernardino, California. Those massive numbers, mind you, represent the difference between average speeds registered during the network's "off-peak" hours, i.e. in the middle of the night, and speeds available during "on-peak" hours, i.e. in the afternoon, when everyone is using their phone, applying a tremendous amount of pressure on sometimes feeble infrastructure.
To reach its conclusions and rank T-Mobile's five aforementioned most congested cities in the US, Tutela looked at data from around 200 of the nation's "top markets." Of these, some obviously performed better than others, with Chattanooga, Tennessee; Bellevue, Washington; Little Rock, Arkansas; Omaha, Nebraska, and Pittsburgh, Pennsylvania listed as the "Un-carrier's" least congested cities, with differences in average download speeds of only between 13 and 17.9 percent. That essentially means that if you're lucky enough to live in one of those areas, network congestion will have a modest impact on your web browsing and mobile download experience.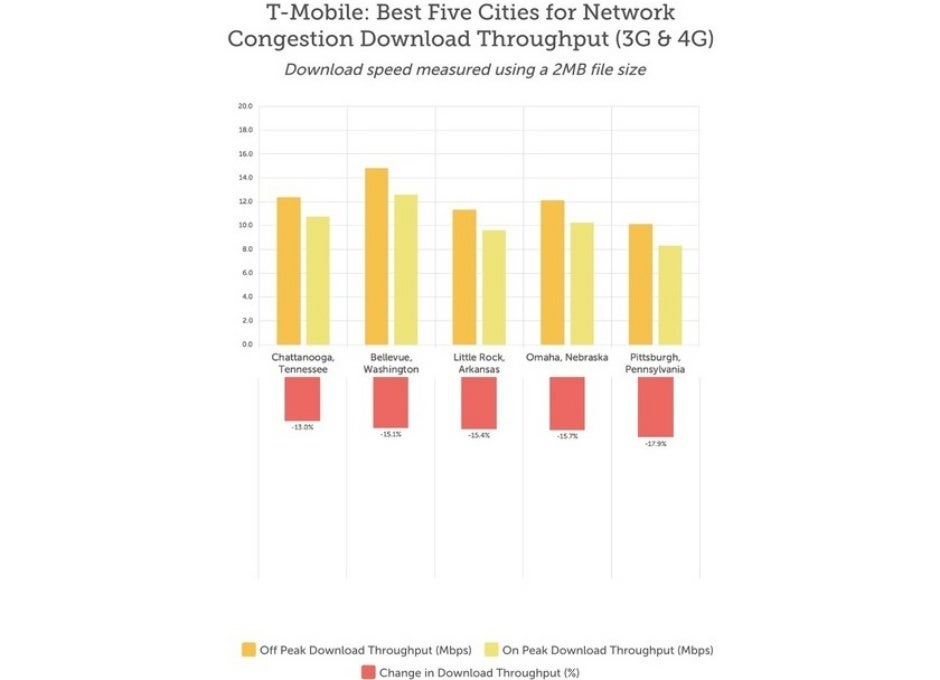 Interestingly, Chattanooga, Tennessee was recently ranked by Tutela as one of
Sprint's best five cities for network congestion
download throughput as well, and unsurprisingly, T-Mobile congestion is not that bad in its Bellevue home base. Finally, it's worth pointing out that Magenta is making efforts as we speak to remedy its biggest congestion problems, "actively deploying more low-band spectrum and densifying its network" in the markets identified as the least stable right now.