Would you rather have front-firing stereo speakers or super-slim bezels all around?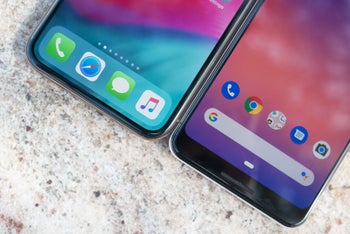 It is the age of the bezel-less smartphone! One by one, manufacturers are introducing "all-screen" flagships with a tiny frame all around and… only slight imperfections. There are still some challenges in the way — like where will the selfie camera sit, or where do we put the speaker and earpiece?
Google went full-on defiant with the
Pixel 3
and
Pixel 3 XL
and chose to have phones that feature a bit of a "chin" and "forehead" but gave its customers full-fledged, front-firing stereo speakers. Presumably, this makes for a better, more immersive viewing or gaming experience.
Manufacturers that choose to
do away with their phones' bottom bezel
stick to a different scenario — the bottom-firing speaker is treated as a "woofer", with pronounced bass and mids, while the earpiece is more of a tweeter, with the thinner details coming out. When holding such a phone, a slight imbalance in audio can be perceived.
In recent
Sony Xperia XZ4 leaks
, we can't spot a speaker grille on the super-thin bottom bezel. Which leads us to believe that Sony might be moving away from the front-firing stereo design it has used for years now and join the "woofer-tweeter" crowd. Which caused us to wonder...
In your day-to-day use, which of these do you feel is more important to you? Proper, balanced stereo, or all-around thin bezels for a more compact, futuristic-looking handset?