One of the best Bluetooth speakers from Sony is almost half price!
We may earn a commission if you make a purchase from the links on this page.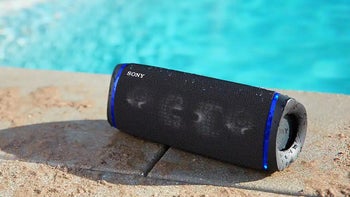 Winter has come (thanks to Ned Stark!) but this doesn't mean we should just stay home and hibernate. We should explore the world, and we should explore it in style. A portable Bluetooth speaker is a great way to add some music to your outdoor adventures (ice bath Wim Hoff-style, anyone?).
One great option is the Sony SRS-XB43 Extra Bass Portable Bluetooth speaker. This speaker is currently
46% off at Best Buy
, reducing the price from $279.99 to just
$149.99
for a limited time—almost half the original price!
This portable boombox offers a lot of features that make it an excellent choice for outdoor use. Firstly, it features a custom non-circular diaphragm that delivers high-quality sound, providing you with a perfect listening experience.
You can easily connect it to your phone or tablet, and it will stay connected up to 98.4 feet (30 meters) away. This means you can easily control the music and volume even if you're not right next to the speaker.
The large 4,900 mAh battery is another super helpful feature of the Sony SRS-XB43. It provides 24 hours of continuous playback, which is absolutely amazing—one whole day and one night of music. It's also compact and lightweight, making it easy to take with you wherever you go. The speaker is also IP67 certified, meaning it is dust- and water resistant. This means you can take it to the beach, by the pool, or even in the rain without any worries.
If you're in the market for a portable speaker but the Sony SRS-XB43 doesn't quite fit your needs, don't worry. You can always check out our list of the
Best portable wireless Bluetooth speakers
for other options.