Where is the Weather app shortcut on Samsung Galaxy S10?
3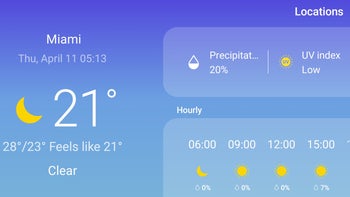 If you've been on the
Galaxy S10
for a while (or even an S9 or S8), you've noticed that the phone sometimes notifies you about current weather conditions. Tap that notification and you get into a proprietary Samsung Weather app, which looks uniform with the rest of One UI. It even goes into dark mode with the rest of the interface, if you have that toggled.
But... if you try to find this app in the drawer or the home screen, you can't — there's no shortcut for it!
So, by default, the only way to get into Samsung Weather is either by tapping its notification (whenever it happens to come up) or by placing a weather widget on your home screen and tapping that.
But you don't have to use a widget if you don't want to! There's a way to force the Weather app icon to come out of hiding! Just follow these simple steps:
Go to the phone's Settings and find the Apps sub-menu


Here, you will need to find the Weather app. To make it easy on yourself — just tap the search icon on top of the Apps menu and do a search for it. Once you find Weather, just tap the cog to the right of it. (Alternatively, if you open the Weather app's info screen, you can see the cog in the top right).


Here, you will find a toggle that says "Add Weather". This will add the app's icon to your app drawer and allow you to drag it to your homescreen.

Alternatively, if you happen to be able to open the Weather app right now (through a notification or by tapping the Weather widget):

Open Weather app → tap triple-dot menu → go into Settings



You will find yourself in the same menu, where you can toggle "Add Weather". voilà!