Three years after the original, a gargantuan Samsung Galaxy View 2 is in the works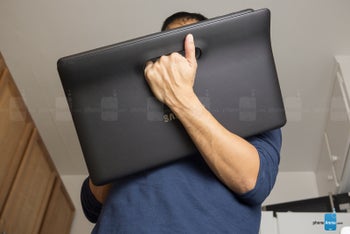 Back when Samsung wasn't
afraid of taking risks
and experimenting with different designs, form factors, and sizes, including some pretty outlandish ones, the
Galaxy View
made its
US debut
as one of the world's largest tablets.
At a $599 list price, with a huge 18.4-inch screen sporting a fairly modest 120
pixel
per inch density, not to mention a cumbersome 5.84 pounds weight, what was essentially
a portable TV
could never make it into the mainstream tech scene.

Fast forward almost three years, and for some reason, Samsung is reportedly working on a sequel no one really asked for. For what it's worth (and it's probably not worth much), this Galaxy View 2 expected out on AT&T soon should be a "bit more compact and practical" than its forerunner, according to a "source familiar with the company's plans", quoted by the always reliable folks over at Android Police.

The display size will purportedly be reduced (a little), to 17.5 inches, although the image quality is unlikely to be vastly improved, since there's no upgrade in the works from the old 1080p, aka Full HD, aka 1920 x 1080 pixels, standard.
There's at least hope for a reasonable price point, but only because the gargantuan Android tablet is expected to pack 3GB RAM. That's 5 gigs less than the top-tier configuration of the
Galaxy Note 9
and an increasing number of flagship phones on the market right now.

Running Oreo software out the box, the Samsung Galaxy View 2 is vaguely rumored to come with an Exynos processor under the hood, lacking both stylus and DeX support. A "modern" USB-C port will handle charging instead of the original version's outdated AC power adapter, while a "book-style hinge" aims to improve the device's maneuverability and versatility.

The hinge will be non-removable, which isn't ideal from a portability standpoint, but at least the first-gen Galaxy View's massive handle is going away.