Samsung Galaxy View Review
40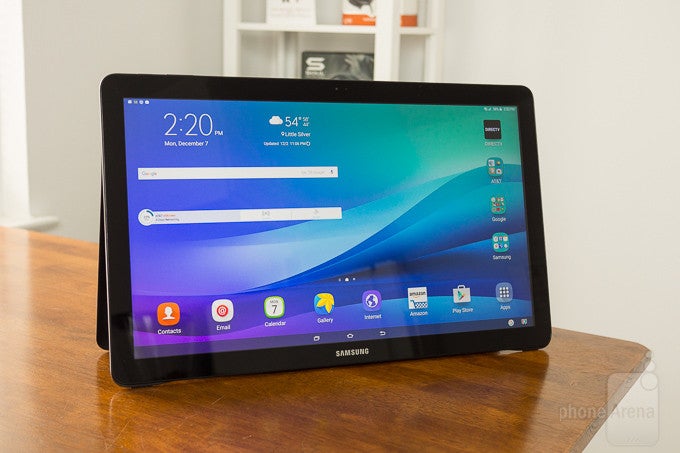 Introduction
Samsung's tablet line has always been a diversified one catering to an assortment of consumers. Recently, however, they've scaled back the amount of models they manufacture, focusing instead on a select few that are more meaningful. Still, it shouldn't by any surprise to see them experimenting every once in a while – and this latest one surely proves that!
The
Samsung Galaxy View
is just that, a ginormous tablet that never goes unnoticed anywhere it's brought because of its larger-than-life 18.4-inch display. Considering that many people associate tablets for being portable alternatives to consumer-grade laptops, it begs the question of what's the intent of this one.
The package contains:
Samsung Galaxy View
Proprietary Wall Charger
microUSB cable
Get start guide
Warranty Information
Design
Big, boring, and old-school Samsung design.
Instead of following the newer, more premium design language of its current Galaxy Tab S2 line, the Galaxy View resorts to employing Sammy's older design principles. Its chassis is pretty much comprised out of plastic, giving the entire package the boring and dull look that for the longest of time gave Samsung the stigma of a company incapable of good designs. Despite the subdued approach, its size is what undoubtedly makes it a standout wherever we bring it – the kind of thing that generates buzz from curious strangers.
This isn't easy to carry around, that's for sure! Not only is it large and heavy for a tablet, but it's nearly impossible to shove into a backpack due to the way the kickstand articulates and how it can't be collapsed to make it flush. Rather, moving it around is achieved by just holding onto the handle on the kickstand. It's obviously not convenient, but it's the best way of traveling around with it.
Speaking of the kickstand, there are basically two ways of positioning it – one that allows it to stand freely by itself, and another that tilts it slightly for better use on a flat surface or on our lap. Unfortunately, the kickstand doesn't articulate any more than that.
Display
Plenty of real-estate, but don't look at it too closely.
In matching its Herculean size, the Galaxy View isn't shy about showing off its 18.4-inch 1920 x 1080 TFT display. Needless to say, it's vast beyond the majority of Android tablets in circulation, so that in itself is something that procures curious glances from people. Even though 1080p resolution is sufficient for smaller sized screens, it's simply not effective here because it makes the entire thing appear pixelated. Sure, while we have no major issues in reading passages of text on a web site, it clearly doesn't achieve the same sharpness we find in smaller sized screens.
Aside from its generous real estate, there's really nothing that profoundly stands out with the display. For starters, it's a bit cold with its 7168K color temperature. However, we will certainly attest that it's visible outdoors, partly due to its potent 441 nit luminance. All told, the display mainly generates interest from its sheer size.
Display measurements and quality