Samsung's new Galaxy A34 and A54 leaked ahead of January 18 announcement
3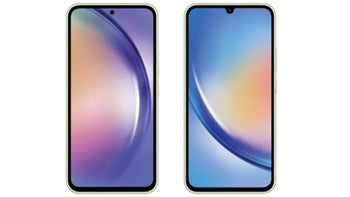 Samsung
confirmed this week
its next Galaxy A series phone will be unveiled on January 18 in India. Without revealing the name of the phone, the South Korean giant made public a bunch of specs, which basically allows us to guess the device.
We've been talking about
certain Galaxy A series phones
for a few months, and now we're confident to report that one of the phones Samsung will reveal on January 18 is the Galaxy A54. Many of the specs confirmed by Samsung on the event's page were leaked months ago, alongside renders of the phone.
Moreover,
Evan Blass
published pictures of the two phones
that Samsung is likely to introduce next week: Galaxy A54 5G (left) and Galaxy A34 5G (right). According to Samsung, the Galaxy A54 will be available in India in multiple colors, including Awesome Black, Awesome Blue, Awesome Chrome, Awesome Burgundy, and Awesome Green.
As far as the rest of the specs go, we know the Galaxy A54 5G sports a large 6.6-inch full HD AMOLED display with 120Hz refresh rate. The 5,000+ mAh battery is supposed to last around two days, as per Samsung's claims. You'll be able to manage battery with AI to last you longer, but you'll have to make some compromises.
One thing that remains a mystery is the chipset inside the phone. Although Samsung mentions the Galaxy A54 5G will pack a "super-fast
5G
processor," it doesn't say which one. Apart from that, we also know the phone will feature a triple camera setup with a 50-megapixel main sensor, as well as 6GB RAM and 128GB internal storage.
In fact, we believe there will be multiple versions of the Galaxy A54 5G available based on the amount of memory.
Samsung
even mentions it will certainly launch an 8GB RAM model. Furthermore, the Galaxy A54's camera will benefit from the "No Shake Cam" feature allowing users to take blur-free videos while on the move.
Not sure how accurate these numbers are, but the Galaxy A54's dimensions are rumored to be 158.3 x 76.7 x 8.2 mm, which means it will be slightly bigger than the previous model.
A rather disappointing Galaxy A33 5G sequel
Moving on to the other phone that we expect to be introduced in India on January 18, the Galaxy A34 5G is a bit of a disappointment. The latest reports claim there are very little changes compared with the predecessor, the Galaxy A33 5G.
Rumor has it the Galaxy A34 5G will sport a slightly larger 6.5-inch full HD+ AMOLED display with 90Hz refresh rate, as opposed to the Galaxy A33's 6.4-inch display. Also, instead of a quad camera like the Galaxy A33 5G, the sequel packs a triple camera (48MP+8MP+5MP), and a secondary 13-megapixel selfie snapper.
Other rumored specs include an Exynos 1280 processor, a massive 5,000 mAh battery, in-display fingerprint sensor, 6/8GB RAM, and 128/256GB storage. Both phones will ship with Android 13 with OneUI 5 and will initially be available in India only.
Unfortunately, there's no word on prices yet, but these should cost about the same as their predecessors. That said, we expect the
Galaxy A54 5G
to be available in India for around ₹ 33,000 ($400), while the Galaxy A34 5G should probably cost ₹ 25,000 ($300).
While these will be launched in India this month, we expect them to go global though at a later date. Of course, prices might be different in other regions, and even specs might change from market to market. We'll find out the rest of the details on January 18, so stick around for more on these two Samsung Galaxy A series phones.