Rear components of Samsung Galaxy S9/S9+ leak, revealing new layout for the back of the phones
31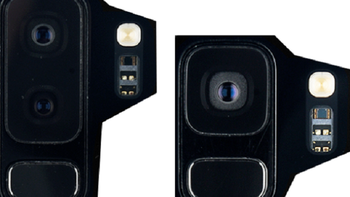 Earlier today,
we showed you renders of the Samsung Galaxy S9 and Samsung Galaxy S9+ standing side-by-side
. The image came from none other than Evan Blass (@evleaks.com), whose face and name show up in the dictionary under
leaks
. This afternoon, some new images appeared on Evan's Twitter account, including one photo showing the rear components of Sammy's 2018 flagship phones.
The component featuring two vertically mounted cameras belongs to the larger
Samsung Galaxy S9+
. Both shooters weigh in at 12MP. To the right is the rear layout of the
Samsung Galaxy S9
. That is a single 12MP camera that you see in the picture.
Last year, Samsung was criticized for the placement of its fingerprint scanner on the
Galaxy S8
and
Galaxy S8+
. The biometric button was placed on back, too close to the rear camera lens. Some users, blindly trying to find the fingerprint scanner with their finger, ended up smudging the lens. When the
Samsung Galaxy Note 8
was released a few months later, the manufacturer put the flash module in between the fingerprint button and the lens, reducing the number of times that the rear cameras would get dirty from the user's finger.
With this year's flagship models, Samsung has gone vertical. The fingerprint button is below the rear camera(s) which should make it easier to feel for. This should greatly reduce the possibility of getting smudges on the rear camera(s) while trying to unlock your phone.
The
Galaxy S9 and Galaxy S9+ will be unveiled on February 25th
during the 2018 Samsung Unpacked event in Barcelona. The MWC trade show begins the next day.

source: @evleaks