Pixel 7, Pixel 7 Pro users complain about dead spots on their displays; try this temporary fix
8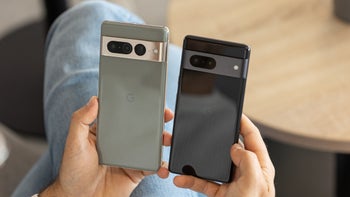 Someone once asked why most of the posts on the
Google Pixel subreddit
are complaints about the line. The answer was simple yet truthful and applies to all phone subreddits; those who have no problem with their phone are not likely to discuss it on social media unlike those with a complaint or two. The latest issue is one that started to get mentioned on Reddit one month ago when a subscriber with the handle "SerendipitousCrow" made the following post:
"Anyone else getting a randomly occurring dead zone on the Pixel 7? My bottom left quadrant randomly goes dead. It's mostly fixed by restarting the phone but if it doesn't immediately go I'm in trouble because my pin has a 7 in (it). I can go a week without it happening or it can happen twice in a day. Am I right in thinking it's a software issue because restart fixes it?"
While the above thread is a month old, earlier today a Redditor posted "This happens to me several times a day. I do use a screen protector." So obviously, this is a problem that still affects Pixel 7 and Pixel 7 Pro users. But there is no proof that using a screen protector causes this issue. And switching between enabling and disabling the screen protector mode doesn't make a difference (
Settings
>
Display
>
Screen protector mode
).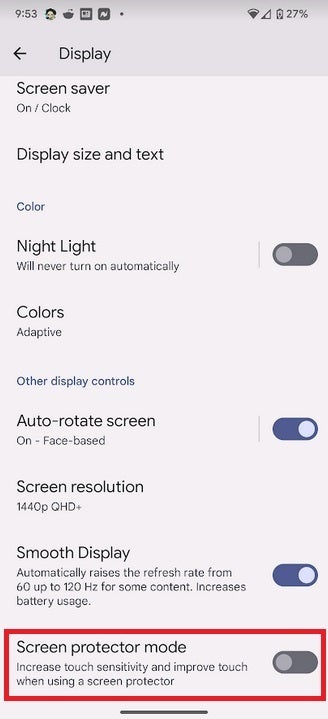 Toggling the Pixel's screen protector mode will not fix the issue
Since a screen protector doesn't seem to be the issue, that news cheered up one Pixel 7 series owner who posted just a few minutes ago, "I have the Whitestone dome screen protector and thought [I] was going crazy, I was starting to think this expensive ass screen protector was the issue lmfao." And a Pixel 7 Pro user pointed out on Reddit that since installing the February update at the beginning of the month, he still experiences dead spots on his phone's screen from time to time.
A Pixel 7 Pro user who has experienced this issue calls it "random" and says that it goes away after closing all active apps and going back to the home screen. So this is something that you might want to try if you are experiencing dead spots on your Pixel handset. The same user, who posts on Reddit using the "dazzle41" username, points out that the dead spots are usually found near the bottom of the screen.
So if this is happening to you, understand that it is a software issue. It is not because of your dry hands, your screen protector, or the way you have your settings toggled. Hopefully, sooner than later,
Google
will include a fix with one of the monthly updates for its Pixel phones. I will point out that this happens to my Pixel 6 Pro every now and then although for me, the dead screen real estate is usually in the upper right of the display and it goes away quickly.