Where to preorder the OnePlus 8 5G and Pro: Verizon, T-Mobile and Amazon release prices
6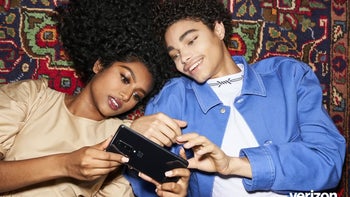 OnePlus phones used to have one defining feature - value - that was stuffed into a very affordable handset. The
recently announced OnePlus 8 and 8 Pro
still look cheap in comparison to most iPhones and Galaxies of this world, but it looks like the gap is getting smaller with each generation.
OnePlus phones are usually affordable at launch, compared to the full retail prices of their flagship competitors, but the company almost never does price promos, and when, say,
Samsung discounts its whole Galaxy S10 family
, the value-for-money argument becomes rather dubious.
That is why OnePlus had to strike above its weight to entice buyers with something more than selling phones near cost, and it found it. Perhaps the most defining characteristics of the last few OnePlus handsets, are the fast charging and the high display refresh rate. Now that the big brands have managed to match those with their flagships, what's left for OnePlus to do?
Why, stuff even more tech and raise the prices even more, of course. While the 90Hz mark is a good trade-off between added fluidity and extra toll on the battery, phones from the
Galaxy S20
series are already at 120Hz, so OnePlus had to match that, with what
ended up a superior implementation
.
Where to buy the OnePlus 8 5G and 8 Pro
Pre-order: April 15 at OnePlus.com and Amazon.com
Release date: April 29 on Verizon and T-Mobile
OnePlus 8 price: $699 on T-Mobile, $799 on Verizon (5G UW)
OnePlus 8 Pro price: $899 (8GB/128GB), $999 (12GB/256GB) at OnePlus.com
OnePlus 8 Pro Launch Day Bundle: Free wireless charger and Bullets Wireless Z earphones
The OnePlus 8 series can be preordered on Amazon.com for the first time, too. Amazon will carry the Glacial Green OnePlus 8 (8GB/128GB) for $699, and the Interstellar Glow (12GB/256GB) priced at $799.



OnePlus 8 price, 5G UW speeds, deals and release date on Verizon




Unfortunately, this big, beautiful 6.78" 1440p 120Hz display won't come cheap from Samsung as a supplier, and the additional calibrations and auto screen refresh rate adjustment chips cost OnePlus extra.




As if to confirm that it will raise prices for the OnePlus 8 series again, the CEO Pete Lau indicated that OnePlus may issue a phone whose cost borders on a grand, at least with the 8 Pro model. That could easily mean $999 for the OnePlus 8 Pro, and $799 for the

OnePlus 8 5G

, and that's exactly how much the phones will cost on April 29th when they launch here in the US.




OnePlus 8 5G UW price, colors, and release date

on Verizon

:



OnePlus 8 5G UW will be launched in Verizon-exclusive Polar Silver or Onyx Black on April 29
The OnePlus 8 5G UW 12GB/256GB price on Verizon is $799, or $33.33 a month
Switch from another carrier to a Verizon Unlimited plan and save up to $700 when you upgrade to a new OnePlus 8 5G UW and trade-in your existing smartphone. Switchers also get a free Stream TV and free Amazon Echo Dot and smart plug.
Current Verizon customers on select Unlimited plans can save up to $550 on a new OnePlus 8 5G UW with an applicable trade-in.


OnePlus 8 5G price, specs, and release date on T-Mobile
While Verizon is launching a OnePlus phone for the first time in its roster, T-Mobile has been working with the phone maker for a while, and, needless to say, will carry the latest and greatest on its budding 5G network.
OnePlus 8 5G prices, colors and release date
on T-Mobile
:
OnePlus 8 5G will be available on T-Mobile starting April 29 in exclusive Interstellar Glow color.
OnePlus 8 5G 8GB/128GB price on T-Mobile would be $699.
OnePlus 8 5G specs on T-Mobile: a 6.55" FHD+ 90 Hz Fluid Display, a 4,300 mAh battery, and an enhanced new triple camera - featuring a high resolution 48 MP main camera, an Ultra-Wide Angle camera to capture landscapes and group photos, and a macro lens for close-up shots. The OnePlus 8 5G also uses a Warp Charge technology that gives a half charge in just 22 minutes.
Such price tags make the OnePlus 8 series the most expensive in the company's history, and Pete Lau has the rising price of high-end components and 5G connectivity accouterments to blame about it.
According to him, the 5G part "
poses many more technical challenges compared to 4G... in terms of design and configuration
," coinciding with other reports on the Snapdragon 865 chipset plus X55 5G modem implementation. In addition, "
prices across the supply chain, from raw materials to materials to 5G chips, are all rising generally in the industry
."
While neither T-Mobile nor Verizon are planning to launch the OnePlus 8 Pro 5G (you'd have to get it from OnePlus), T-Mobile notes that:
The OnePlus 8 Pro 5G smartphone taps into T-Mobile's low band 5G, the first and only nationwide 5G network, and can tap into the 2.5 GHz spectrum recently acquired from the Sprint merger, as it becomes available.
There you have it. Still, both Verizon and T-Mobile note in their OnePlus 8 5G releases that this is the cheapest phone with the newest Snapdragon 865 and Qualcomm's X55 5G modem in the US, and that's certainly true, so we'll see how many customers can OnePlus line up for the new 8 series in these trying times.
As to why is the Verizon model more expensive - it's the only mmWave edition, duh, and you know how expensive the bunch of those antennas needed inside just to penetrate your palm is. Any takers?
So here's the deal with @OnePlus 5G. Unlocked OP8 and OP8 Pro are low/mid-band T-Mobile/Sprint only. (No AT&T or Verizon 5G - they're 4G on those networks, at least for now.) Special Verizon OP8 UW is the only model with mmWave. No OP8 Pro model has mmWave.

— Sascha Segan (@saschasegan) April 14, 2020