The OnePlus 11 is first to offer true 120 fps mobile gaming, here's how
2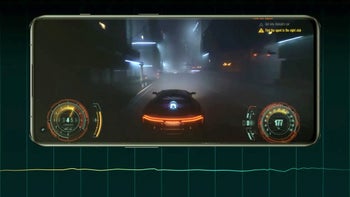 While touting the
OnePlus 11
's 6.7-inch 120Hz 2K A+ fluid AMOLED display with LTPO 3.0 that "
allows you to see the world in its fullest with vibrant colors
," OnePlus fleetingly mentioned that the display is its first to support the highest Dolby Vision 10-bit HDR standard, but also that it allows for true 120fps gaming experience.
To achieve this, OnePlus partnered with Samsung on a new display connector and the latest OLED panel technology that allows it seamless 1Hz-120Hz dynamic refresh transition that is so granular that it can change the refresh rate depending on your scrolling speed.
Not only that, but the screen supports high 1300 nits of peak brightness levels, and, as usual, is calibrated individually at the factory for each unit. The 120 frames gaming, however, really piqued our interest, as OnePlus mentioned a chip from our old friends from
PixelWorks
, the ultimate solution providers when it comes to display metrics and performance.
OnePlus 11 display quality
When it comes to display refresh and color calibration, the OnePlus 11 sports the newest
PixelWorks X7
imaging chip, that according to the company brings the following novel features to the latest OnePlus handset that will be released globally on February 7:
OnePlus 11 AI Always-On HDR
Converts source SDR (Standard Dynamic Range) content to HDR (High Dynamic Range) content in real-time. This function improves the color saturation and contrast of images, producing a more detailed and vivid display to human eyes. Based on AI display functions, this technology utilizes scene detection to intelligently adjust display parameters according to the scenes of different games to ensure smooth, real-time transitions from SDR to HDR.


Absolute Color Accuracy on the OnePlus 11 display
Each OnePlus 11 smartphone is factory calibrated with Pixelworks' patented and high-efficiency calibration technology, producing an average Delta E value (an indicator of color accuracy) less than 1, which enables consumers to enjoy real-to-life color for all apps and content covering 100% P3 and sRGB color gamuts. By leveraging the 3D LUT method, Pixelworks visual processing technology conducts advanced color calibration to comprehensibly and precisely manage numerous display attributes, including hue, saturation and brightness, making the color displayed on the screen look as vivid as what human eyes detect in the '3D space'. Additionally, Pixelworks technology compensates for the color saturation to guarantee the consistent and most true-to-life experience for human eyes in different color modes and lighting conditions.


Adaptive Brightness Calibration on the OnePlus 11
Ensures the display's gamma value is always at 2.2 (best standard tested by image and video processing professionals) in different color modes to achieve the most true-to-life experience for human eyes when users view content on a mobile device's screen. Even in low brightness, this Pixelworks solution adapts the gamma curve to compensate for brightness to ensure the consistent color appearance of content displayed on the screen.
Super Frame Rate on the OnePlus 11 and 120fps gaming
Ultra-low latency MotionEngine on the OnePlus 11
Driven by advanced algorithms and innovative architecture, the technology supports ultra-low latency frame interpolation that can boost the frame rate of original content to as high as 120fps while maintaining comparable smoothness of picture quality. Further, the technology ensures minimal latency as low as 10ms, which is well beyond the range of human perception. This function has been optimized for over 100 popular mobile games, including Glory of the King, Game for Peace, League of Legends, Genshin Impact and Sky: Children of Light.
Low power Super-Resolution
Pixelworks' visual processing technology leverages newly advanced algorithms to improve picture quality by boosting content resolution from low to high resolution, making it possible for smartphones to empower lower picture quality games with excellent visual quality on screens capable of displaying at higher refresh rates. With the boosted resolution, sharper and enhanced outlines of game characters and scenes look more authentic and smoother than the those displayed in native resolution.
List of 120fps mobile games supported by the OnePlus 11 Motion Engine
During its keynote presentation, OnePlus mentioned that its newest 11 series phone is first to offer true 120fps mobile gaming supported by more than 100 titles that has been developed in partnership with the Unity gaming engine, in addition to chips from PixelWorks and a partnership with Samsung for the display panel drivers. The full support includes a roster of a hundred or so major mobile games, such as:
Genshin Impact
Glory of the King
Cross Fire
QQ Speed
Sky: Children of Light
Game for Peace
Moonlight Blade
League of Legends