New 9.7-inch iPad vs iPad Pro and the old 9.7-inch iPad: what's different, anyway?
31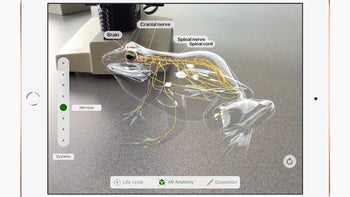 Dissecting a virtual frog – that's just one of the many things you can do on an iPad! No, seriously: exploring the innards of a toad in AR was one of the demos at today's Apple event – where a brand new iPad model was announced. This new iPad isn't Apple's best one yet. It isn't the fastest, most advanced, or best-looking iPad ever released. Instead, it has a much more noble goal – to be the best tablet for the classroom. That's great and all, but what makes it different from Apple's other recent iPads? Weren't they also ideal for school use? Allow us to elaborate on that.
Design and display: not a whole lot has changed
There's not a whole lot to say about Apple's latest iPad. It look and feels much like last year's affordable, 9.7-inch model – with an aluminum body, high-res touchscreen, and a Touch ID fingerprint reader embedded in the home button. As expected, the 10.5-inch iPad Pro would give you a bit more screen space to work with, but it is also a bit bigger physically. Fancy extras like ProMotion (120Hz refresh rate), Wide Colors, and True Tone Display are only available on the iPad Pro.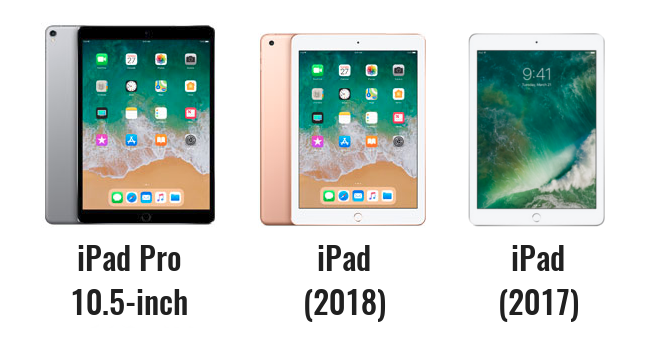 The new 9.7-inch iPad with Pencil support (middle) vs the iPad Pro 10.5-inch (left) and last year's affordable, $329 iPad (right)
Software and functionality: Apple Pencil support, at last!
Powered by the latest iOS release, the new 9.7-inch iPad isn't all that different from any other iPad when it comes to software. At today's conference, Apple showed off a bunch of new education-oriented and AR-powered apps, but these will be available on any other iPad, while the ability to share an iPad between several students, with personal accounts for each, has been available for a while.
What's new, however, is that the latest iPad works with the Apple Pencil. Using the digital stylus, students will be able to take notes or add drawings to their documents, while teachers will be allowed to add comments to work that's been handed in. While all iPad Pro models are compatible with the Apple Pencil, last year's affordable 9.7-inch iPad wasn't.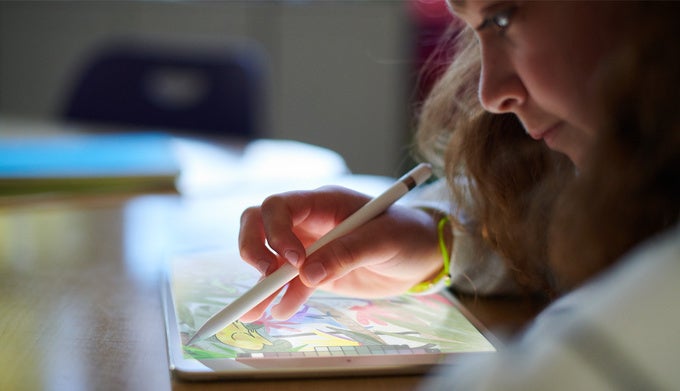 The new 9.7-inch iPad works with the Apple Pencil
One thing to note here is that unlike the iPad Pro, the new iPad can't be used with Apple's Smart Keyboard. It will, however, work with any Bluetooth keyboard, while Logitech has a 49$ stylus called Crayon that could be an excellent alternative to Apple's pricier Pencil.
Processor, memory, connectivity: more than enough to get all homework done
Apple has chosen to use the A10 Fusion chip inside its latest iPad. This is the same silicon we saw inside the iPhone 7 and it makes the new iPad model more powerful than last year's 9.7-inch model, but still not as capable as an iPad Pro.
| iPad (2018) | iPad Pro 10.5-inch | iPad (2017) |
| --- | --- | --- |
| Apple A10 Fusion system chip | Apple A10X Fusion system chip | Apple A9 system chip |
| Storage: 32 or 128GB | Storage: 64, 256, or 512GB | Storage: 32 or 128GB |
| Connectivity: Wi-Fi or Wi-Fi + LTE | Connectivity: Wi-Fi or Wi-Fi + LTE Advanced | Connectivity: Wi-Fi or Wi-Fi + LTE |
| Supports Apple Pay | Supports Apple Pay | Supports Apple Pay |
Also worth pointing out is that with the new iPad, students will be given 200GB of free Apple Cloud storage – much better than the measly 5GB everyone else gets. Pretty neat!
Camera and audio: a familiar setup
Of course, Apple had to cut some corners to deliver an affordable iPad. The new 9.7-inch model appears to have what's practically the same camera we had on last year's affordable iPad: with 8MP of resolution and 1080p video support. At the front is an identical 1.2MP camera. The sound setup hasn't changed much either, retaining the stereo down-firing speaker setup.
In comparison, the 10.5-inch iPad Pro has a lot more to offer. Its higher-resolution camera is more sensitive to light and has optical stabilization for better stills, while video can be recorded at 4K. The quad-speaker array completes the whole package.
Pricing: answering the $299 question
Apple is launching the new 9.7-inch iPad with Apple Pencil support for $329 in the US, retiring last year's model in the process. Schools, however, will be able to get it for $299. While the tablet won't come bundled with an Apple Pencil, schools will get a $10 discount on its purchase, which would bring its price down to $89 apiece. Even if you throw in a keyboard cover, you're still looking at a lower price compared to purchasing the more powerful, 10.5-inch iPad Pro. Here's what the standard prices look like side by side when we add storage and connectivity options into the mix:
| iPad (2018) | iPad Pro (10.5-inch) |
| --- | --- |
| 32GB, Wi-Fi Only: $329 | 64GB, Wi-Fi Only: $649 |
| 128GB, Wi-Fi Only: $429 | 256GB, Wi-Fi Only: $799 |
| 32GB, Wi-Fi + Cellular: $459 | 512GB, Wi-Fi Only: $999 |
| 128GB, Wi-Fi + Cellular: $559 | 64GB, Wi-Fi + Cellular: $779 |
| - | 256GB, Wi-Fi + Cellular: $929 |
| - | 512GB, Wi-Fi + Cellular: $1,129 |