Cool new Google Lens features are rolling out now!
3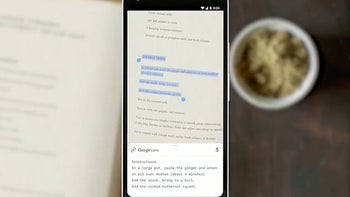 Smart Text Selection in action
At I/O 2018, Google made it clear how serious it is about Google Lens – the company's AI powered real-life image search machine. Okay, that's simplifying things a bit, but that's the gist of it.
At its annual conference, Google announced that Lens would be integrated right into the camera apps of future Android phones from its partners -- including Asus, Motorola, Xiaomi, LG, Sony, Nokia, and OnePlus, and others -- as well as its own Pixel phones. But until this becomes a reality, there's a host of new Google Lens features that are now being rolled out in stages to all phones with Google Assistant support (i.e. pretty much every Android phone out there). People with iOS devices will, apparently, have to wait a little while until the new stuff makes its way into Google Photos, which it will in the coming weeks.
The new features include Style Match and Smart Text Selection. Style Match, as the name suggests, is a tool that lets you snap a photo of, say, an outfit that you like and have Lenes match it to an accessory online. Of course, you'll be able to buy whatever matches you've made with a few of taps.
As for Smart Text Selection, well, it is a pretty straightforward ordeal. Snap a picture of some text and Google Lens will use the magic of OCR (Optical Character Recognition) to turn it into editable text that you can copy, paste, and edit.
Expect Style Match and Smart Text Selection to roll out to Google Assistant in the coming days.