myCharge Hub 6000 Portable Power Bank hands-on
1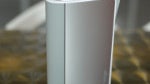 Are you looking to keep your ever growing gadgets collection adequately powered so you'll be able to get through a day? Well, if you happen to be ones of those types who happen to have a diverse selection, then the
myCharge Hub 6000 Portable Power Bank
might fit the bill, as it offers connectivity to a host of power ports. Last year, we checked out the
myCharge Peak 6000
, a very handy portable battery pack, but considering that it's a new year, we're finally seeing a newer model.
First let's talk design. To tell you the truth, it's nice to find that the myCharge Hub 6000 is pretty
discrete
in what it's packing along for the ride. In fact, we really appreciate the c
lean and portable design
of the myCharge Hub 6000. Yes, it's body is constructed out of plastic, which is warranted honestly, seeing that it contributes to giving it a lightweight feel in the hand.
Showing off its worth, it's wonderful that it incorporates both
microUSB and Lightning cable connectors
– so we don't have to carry along any extra baggage with us. Adding yet more depth to its functionality, a full-sized USB port is hidden behind another plastic flap to enable a broad range of devices to tap into its battery charge. And finally, the wall socket prongs rotate for easy and quick charging – though, we would've preferred an additional connection so it can connect to any USB port to charge.
Overall, it's beneficial for those who desperately need to keep their devices juiced, especially with its
6,000 mAh battery
. At
$99.99
for it, which matches the original cost of last year's myCharge Peak 6000, it's not bad of an investment, though, we've seen other higher capacity battery packs selling for the same price. Then again, its rivals lack the sleek and clean design of this – plus, the integrated cables too.
More portable battery packs to check out
source:
myCharge