More Pixel 7 owners are finding a shattered rear camera lens without dropping their phones
7
Those complaining about this issue haven't dropped their phones or otherwise damaged their devices. Possible explanations range from a problem in the manufacturing process to the difference in temperature from the freezing cold outside to the toasty warm inside. According to Google, the latest Pixel models are designed to work best in ambient temperatures between 32 and 95 degrees Fahrenheit (0 and 35 degrees Celsius). They can be stored in a range of -4 and 113 degrees Fahrenheit (-20 and 45 degrees Celsius).
Taking the phone from a warm temperature to a cold one could cause the glass to shatter

But even making sure that you are within the temperature range prescribed by Google won't guarantee that your Pixel 7's camera bar will remain intact. One Twitter user by the name of
Pusha NFT
(@timboevbo) sent out a tweet that said he took his Pixel 7 from a room with a temperature of 61 degrees Fahrenheit to 28 degrees Fahrenheit and the glass shattered. Another Pixel 7 user that suffered the same fate wrote, "I don't know about what others are doing but I'm not exactly using my device in the freezer."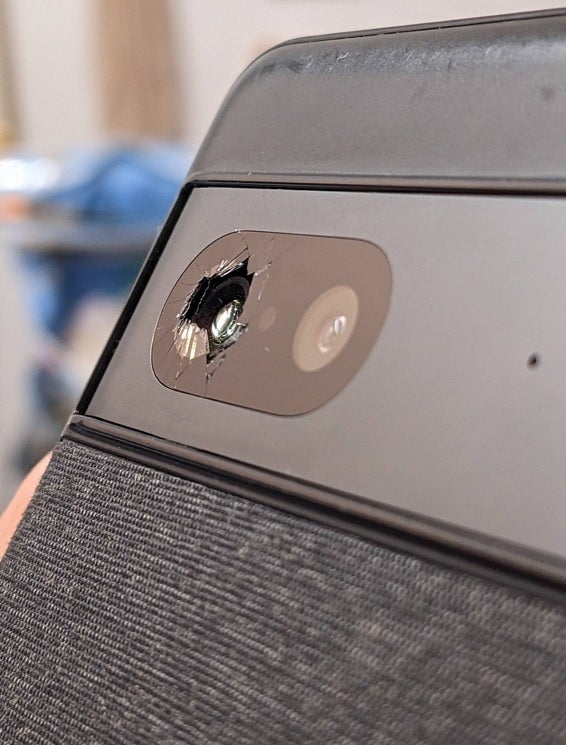 A Pixel 7 user shows off the shattered glass on his phone's camera bar
One
Redditor
explained how the shattered glass could be the result of Google using certain materials for the phone. This user (Nathanielwilliam) wrote that the problem with the shattering glass "Could be manufacturing variations or just bad engineering...Glass and aluminum have different thermal expansion rates...Defects in lenses: scratches, voids, irregularities, etc could cause easier failures.There may be manufacturing variations where some lenses are placed closer to the aluminum (not centered in the hole) and touch under rapid thermal expansion. If the adhesive for the glass was too rigid (rigidity increases at low temps), this could cause the glass to break."
Some Pixel 7 users whose camera bar shattered have received replacement units from Google


He adds that "the Pixel 7 has a different design for the camera glass than the Pixel 6 (one large lens). On the 7 there is almost no gap between the aluminum and glass and nothing to fill the small gap and prevent any debris from getting in that gap and wedging to cause a crack under thermal expansion."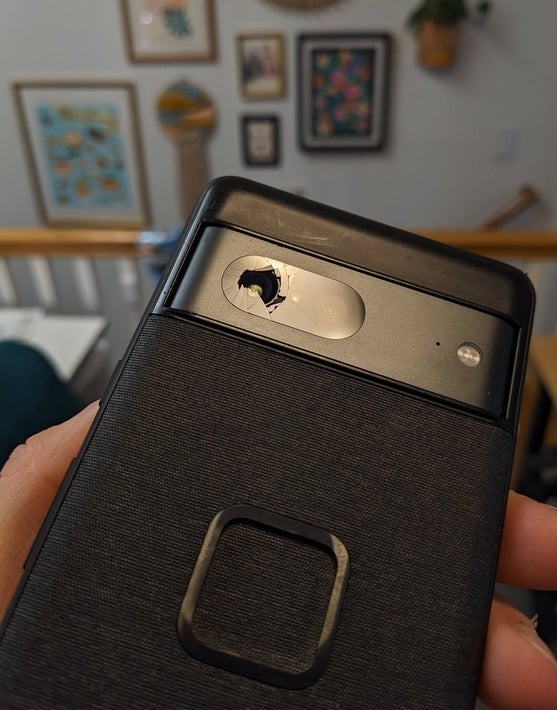 Another Pixel 7 camera bar bites the dust

Reproducing the issue could be challenging. If it only happens with phones with certain production variables, some phones may never fail. Even with defects or variations in lens placement, it may only happen at specific ambient temps while the phone at another specific temp gets exposed...Google is flat out denying the issue while also not providing spare parts that we can buy on our own."
Some of the Pixel 7 series users who reported to Google about the shattered glass have received replacement units from Google. And now that the number of these complaints has risen sharply, Google will no doubt be more amenable to shipping a replacement unit. So in other words, if this has happened to your phone, make sure that you report it to the manufacturer right away.
So far, we haven't hear of any Pixel 6 series units suffering this same fate which really doesn't help us determine for sure the reason for this issue. It could have to do with the different design of the camera bar for both series. If this has happened to your Pixel 7 handset, drop us a comment in the box below. And while you're at it, let us know how Google treated your complaint.