Microsoft's big AI announcement means that Bing could replace Google as top search app
12
Hey Google, hear this noise?
BING
. You are about to lose market share in search and it is going to cost you billions of dollars in revenue.
BING
. According to
Reuters
, Microsoft announced tonight that it is integrating its Bing search engine and Edge web browser with the AI superstar that everyone is talking about, ChatGPT. Microsoft is investing billions in OpenAI, the developer of ChatGPT, so it makes sense that Microsoft's search engine and web browser get first crack at adding the conversational AI experience to its mobile apps.
Bing can generate $2 billion in ad revenue for each percentage point of the "search" market share it adds

While Bing currently has about 9% of the online search market, Microsoft expects to generate $2 billion in additional advertising revenue for each percentage point of market share it adds. For Q4 2022 Google Search generated revenue of $42.6 billion compared to "only" $3.2 billion for Microsoft's search and news advertising revenue. That's a gap Microsoft is hoping to close and more.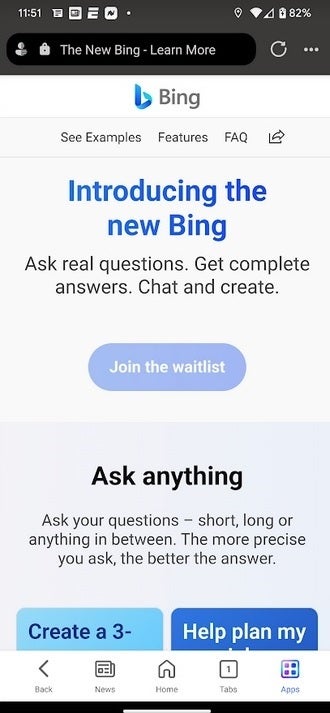 A new AI-powered version of Bing is coming to mobile devices
During a press briefing at Microsoft headquarters in Redmond, Washington, CEO Satya Nadella said, "This technology is going to reshape pretty much every software category." ChatGPT is available on the Bing website for a limited number of users and will be ready for mobile users via the Bing app in the weeks ahead. But before you get too excited, during the "limited preview stage," only pre-set queries will be allowed. At a later date in the future, free-form queries will be answered.
To get the Bing app with ChatGPT integration, you first need to
click on this link
to join a waitlist. You can jump ahead in the line by making Microsoft apps the default choice on your PC and scanning a QR code to install the new Bing app on your phone.
Bing will use OpenAI's most powerful Prometheus model which will use real-time web data from Bing. That means Bing's chatbot will be able to give answers based on current events rather than post answers that are limited to 2021 data. And with ChatGPT, Bing users will be able to get a summary of the articles they are reading, compose emails, and translate them to reach more readers. Microsoft warns that ChatGPT, like most AI chatbots, is apt to give incorrect information which it calls a hallucination. The company says more user feedback will help reduce hallucinations.
Not all analysts see Microsoft's move as a big one for consumers. Gartner analyst Jason Wong said Microsoft's "partnership with OpenAI is more relevant for its business customers." Even so, Wong stated that Microsoft could offer "disruptive opportunities" in consumer businesses as well. The analyst said, "Except for gaming, Microsoft has not been a leader in key consumer technologies, such as search, mobile and social media."
Microsoft says that the AI-driven Bing will no longer simply disseminate links. Instead, it will give users clear answers in simple language combining answers that Bing found on the web and from its collection of data. On the Edge web browser, ChatGPT could be used to help users understand long and complex documents.
Google introduced its own conversational AI platform on Monday

Google
tossed its hat into the conversational AI era yesterday by announcing Bard. Google CEO Sundar Pichai wrote that AI is "the most profound technology we are working on today. AI helps people, businesses and communities unlock their potential."
ChatGPT was forecast back in December to replace Google
in a couple of years. Now it seems possible that this is going to happen earlier than expected. The chatbot can "write computer code, create complex essays, decorate your home, come up with a winning marketing idea, and more." Teaching professionals are concerned that students will turn to AI chatbots to write essays instead of using their own brains.
Besides Google search, Microsoft is also going after Google Chrome by adding a ChatGPT sidebar to the Microsoft Edge web browser.
There are some downsides to this technology besides hallucinations. AI chatbots can create racist content and without morals, some content can be distasteful to humans. And even when it writes about something that is obviously wrong, it can convince people to believe the content.