This Magic Keyboard deal will click with any iPad Pro user out there
We may earn a commission if you make a purchase from the links on this page.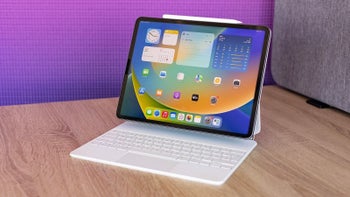 While Apple's iPadOS was evolving throughout the years to offer split-screen, file transfers, and enhanced clipboard, the iPads were still missing something very important — a proper keyboard. Yes, Apple had the Smart Keyboard, which was... quite bad for its asking price (and still is). And there are 3rd party solutions, but they don't work perfectly flawlessly with iPadOS.
In 2020, Apple introduced the Magic Keyboard, which completely changed the game for the iPad Pro. It feels fantastic to type on, its touchpad works perfectly with iPadOS, and the keyboard itself has an extra USB C port for your iPad, which is a big deal when your main device only has one of those.
Unfortunately, besides being exceptionally good, it's also quite expensive. The Magic Keyboard for a 12.9-inch iPad Pro will usually set you back $349, while the 11-inch model is $299. Not on today's Cyber Monday they are not!
The best deal comes from Amazon and it's for the Magic Keyboard 12.9" from 2020. Its price has been dropped all the way down to $228.50, which is a steal, all things considered. The Magic Keyboard 11" is down by $50, to $249.
A word about Magic Keyboard 12.9" and compatibility — no doubt if you click the link above, you will notice this one has been marked as "Previous Version". Technically, the Magic Keyboard from 2020 will fit an
iPad Pro 12.9"
from 2021 and 2022. However, these two iPad Pro models have the new XDR display, which makes the tablet very slightly thicker than before. As a result, the fit within a Magic Keyboard 2020 is very, very snug.
In general, they still fit, but if you are planning to use a thicker screen protector with your iPad, it may be an issue. A thin plastic or paperlike screen protector should be OK. If you are feeling uneasy about that, the good news is that the newer Magic Keyboard, which supports the XDR iPads, also got a small discount — it's down by $50 as well.