Render of the lower priced BlackBerry KEY2 LE surfaces along with leaked specs
19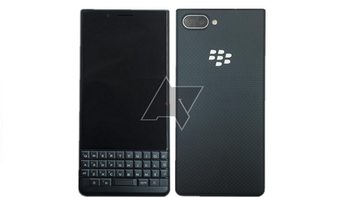 Obviously, TCL had to cut corners to bring the price down, although the KEY2 LE still features the physical QWERTY, the fingerprint scanner embedded in the space bar, and the dual camera setup in back (more on that below). While it is hard to tell from the render, it would appear as though the keys on the keyboard are not as "premium" as the ones used on the regular KEY2. There is some speculation that on the KEY2 LE, users won't be able to use the keyboard as a trackpad.
The KEY2 LE features the same 4.5-inch LCD display found on the KEY2, sporting a resolution of 1080 x 1620. Instead of the Snapdragon 660 Mobile Platform that powers the KEY2, the lower priced model will have the Snapdragon 636 chipset under the hood. The rumored specs reveal that the "lite" version of the KEY2 will carry 4GB of RAM and 32/64GB of native storage as opposed to 6GB of RAM and 64GB of storage on the full priced unit. The dual cameras on back of the KEY2 LE will reportedly weigh in at 13MP and 5MP compared to the dual 12MP sensors on the KEY2.
One rumored change that might disappoint potential purchasers of the lower priced KEY2 is the reduced capacity of the battery that will keep the phone's lights on. Instead of the 3500mAh cell that helped the KEY2 gain its reputation as a power sipper, TCL has decided to endow the KEY2 LE with a 3000mAh battery. The LE will be slightly shorter (5.92-inches vs. 5.96-inches), .15mm thinner and 12 grams lighter than the currently available model.
What everyone wants to know is the difference in price between the two KEY2 versions, but at this point it is unknown how much the BlackBerry KEY2 LE is going to cost.