Best Buy has the beastly LG V50 ThinQ 5G on sale at a huge $700 discount
1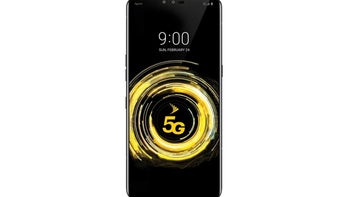 While waiting to see if a bunch of
states opposed to its merger with T-Mobile
will ultimately settle
their lawsuit
and allow for the
$26.5 billion mega deal
to be finally completed, Sprint has been
slowly but steadily expanding
a fairly
robust True Mobile 5G network
.
Of course, there aren't a lot of phones you can actually use to get a high-speed 5G signal on the "Now Network", but on the bright side, they're usually pretty affordable... if you know where to look. The 5G-enabled OnePlus 7 Pro, for instance, slipped from a list price of around $850 to
only $480 a couple of months back
, while the
LG V50 ThinQ
is available today starting at a measly 300 bucks or so all in all.
You can score this massive $700 discount at Best Buy with a two-year monthly installment plan and absolutely no other strings attached. Both new and existing customers looking to add a line of service or simply upgrade their handset are eligible to lower their monthly payments from $41.67 to as little as $12.49, bringing the grand total down from a whopping $1,000 to a very reasonable $300.
At $300, you could even purchase the LG V50 ThinQ 5G if you're not covered by Sprint's 5G service yet and use the Snapdragon 855 powerhouse as a good old fashioned 4G LTE-only device. In addition to that state-of-the-art SoC, the 6.4-incher on sale right now also has a generous 6 gigs of memory and 128 gigs of internal storage space going for it, as well as a microSD card slot, a 3.5mm headphone jack, a versatile 12 + 12 + 16MP triple camera system, and a large enough 4,000mAh battery to keep up with the energy needs of that massive P-OLED display... as long as you don't use 5G connectivity.
Before wrapping up, we should also highlight the $700 price cut is offered as a $155.92 Best Buy "instant discount" and additional $22.67 monthly bill credits for the entire duration of your two-year "contract."