iPhone to grow in popularity in China according to a Morgan Stanley survey
7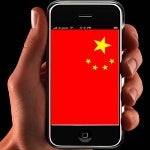 Underestimating China is not an easy job these days - the longtime "sick man of Asia" is an economical phenomenon nowadays, and more and more people start to develop an interest in its history, language and culture.
And it seems this newly-found economic prowess is a good news for Apple - the latest Morgan Stanley survey of China's smartphone market shows that the iPhone is set for an astonishing growth in the "country in the middle".
The sample, in which 2,029 Chinese mobile phone users took part, shows that 87% of the participants claimed their next phone will be a 3G device, while 30% stated they expect it will be an iPhone. When price was removed from the equation, the percent of the wanna-be
iPhone
owners jumped to 53.
Of all major manufacturers that were named in the survey, only RIM and Apple are more desired when the price of their products is not taken into account - 3 percent of the participants plan to buy a BlackBerry device - a percent that increased to five when price wasn't mentioned.
The opposite trend is witnessed with Nokia, HTC and Samsung. According to this Morgan Stanley AlphaWise survey, 25% of the people who participated in it plan to buy a Nokia handset, while 7% responded they expect to purchase an HTC phone and 5% claimed they lean towards a Samsung handset. When price wasn't taken into consideration, these percents dwindled to 20% for Nokia, 5% for HTC and 4% for Samsung.
This research seems to indicate that not only the iPhone is growing in popularity in China, but also that its potential far exceeds its current market share, which is surely a good sign for Apple's long-term future.
source: Morgan Stanley via
All Things Digital