iPhone still the #1 smartphone in the U.S., but Android is the top platform
40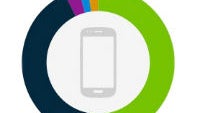 For all of the times we see the global numbers showing Android
overwhelmingly taking over
the smartphone market, there is still the smartphone market in the U.S., which shows a far different story than elsewhere. The standard theory is that Android has so much market share because of inexpensive low-end devices around the world, but that Apple is still holding its own in the high-end market. If that's true, it would explain the numbers we're seeing in the U.S. where the high-end market is bigger than many regions.
According to the data from Statista, Apple is by far the most popular manufacturer for U.S. consumers with 40% of the market as of Q2 2013. Of course, this still puts iOS in second place behind Android, which clocks in at 52% of the market. Not surprisingly, Samsung leads the way for other manufacturers with 24.7% of the U.S. market, most of which are Android devices, but a small percentage are Windows Phone. HTC comes next with 9.4%, Motorola afterwards with 9%, and LG with 7%.
With Android and iOS combining for 92% of the U.S. market, that leaves a little bit for other platforms. BlackBerry leads the rest with 3%, then Windows Phone and "Other" combine for 2%.