iPhone losing market share despite growth in sales?
13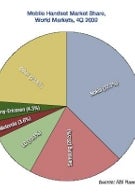 Even though the Apple iPhone grew sales from the 3rd quarter of 2009 to the fourth quarter, the pace of that growth could not keep up with the entire market as a whole, according to ABI Research. As a result, the iconic touchscreen device saw its marketshare of worldwide smartphone sales decrease from 18.1% in the third quarter to 16.6% in the fourth period. This drop in Apple's piece of the pie came even though a record 8.7 million iPhones were sold in the final three month period of the year. That was an increase in sales of 18% from Q3.
Strategy Analytics used year over year data and on that basis, the picture looks entirely different. From a 10.8% piece of the market after the fourth quarter of 2008, the iPhone garnered a 16.4% share after the final three months of 2009 (note that the two firms were just .2% apart on the phones marketshare at the end of last year).
ABI's Michael Morgan has come up with a great phrase to describe a phone that loses marketshare because its design has not changed for years. Calling this "RAZR burn" after Motorola's once hugely popular handset, Morgan's report noted that perhaps the iPhone is suffering from that affliction. The WSJ shoots that theory down by noting that the iPhone still enjoys profit margins near the top in the industry and that the Apple brand still commands plenty of attention (witness the excitement over last week's announcement of the iPad).
With Nokia increasing sales in the 4th quarter by 4.6 million units and the launch of the Motorola DROID, smartphone sales grew 26% in the period according to ABI. The researcher says that 336.5 million handsets were shipped in the final 3 months of last year for a 15.1% gain , quarter vs. quarter. The marketshare leader in the period, worldwide, was Nokia with a still dominant 37.7% piece of the market. Samsung was the runner-up with a 20.5% share followed by the 10.1% reading for LG. In fourth and fifth place respectively with 4.3% and 3.6% of the market was Sony Ericsson and Motorola.
Apple iPhone 3GS Specifications
|
Review
source:
WSJ
via
AppleInsider