Apple iPhone X battery life test comparison vs iPhone 8 Plus, Samsung Galaxy
41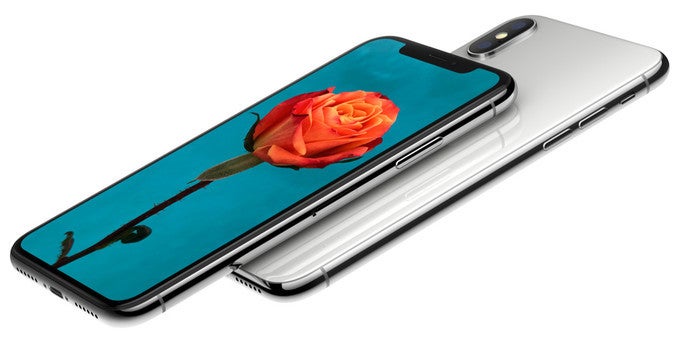 The Apple iPhone X comes with a brand new 2,716 mAh battery that
takes a weird L-shape
and it's clear that Apple has made the most of the available space to cram in a big battery cell. It's not as large as on Android phones, but it is bigger than the battery of the iPhone 8 Plus.
So what is the actual battery life on the iPhone X?
We have spent a few days with the $1,000 phone and we have run our battery test to get the numbers. But first, here is how the iPhone X battery size compares to other iPhones and Samsung Galaxy phones' batteries:
| Model | Battery | Capacity | Size |
| --- | --- | --- | --- |
| iPhone X | 2,716 mAh | | |
| iPhone 8+, 7+, 6s+ | 2,675 mAh | 2,900 mAh | 2,750 mAh |
| iPhone 8, 7, 6s | 1,821 mAh | 1,960 mAh | 1,715 mAh |
| Samsung Galaxy S8, S8+, Note 8 | 3,000 mAh | 3,500 mAh | 3,300 mAh |
In our experience, the iPhone X battery will last users even through those longer days, but you will still need to recharge your phone every night.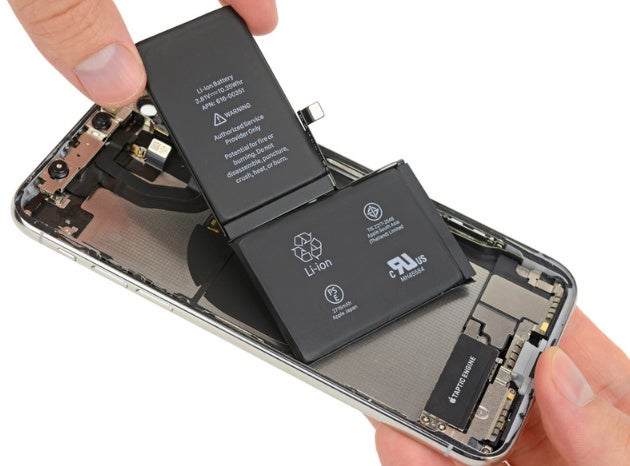 iPhone X uses an L-shaped battery, image by iFixit
We experienced better battery life than what you get on the small iPhone 8, but not quite as good battery longevity as on the larger iPhone 8 Plus.
Not as long lasting as an iPhone 8+, but will easily get you through a long day
To confirm our experience, we ran a custom test that measures typical use of a phone. We do this tests for all phones that we review and we set the phones to equal conditions.
The iPhone X scored 8 hours and 41 minutes on our test, slightly better than the average score for a 2017 flagship phone. You can see how it compares to other major flagships in the chart below.
Another important aspect of the battery experience is the time it takes to charge the battery. The iPhone X does support fast charging, but it still ships with the old, "slow", 5-watt charger in the box. If you want to make full use of the new fast charge capabilities of the iPhone X, you need to separately buy the Apple USB-C power adapter ($50) and a USB-C to Lightning cable ($25). Alternatively, you will also get faster charging speeds if you use an iPad charger, but a USB-C power adapter is required for the full fast-charge capabilities.
We used the regular charger that comes in the box with the iPhone X, and here is how long it took to charge the battery from 0 to 100% using this charger.
Yes, that's an excruciatingly long 3 hours and 9 minutes! Those slow speeds do not matter much when you leave your phone charging on the night stand, but if you need a quick battery top-up during the day, those speeds can be too slow.
The iPhone X also supports Qi wireless charging. It will work with most Qi-standard wireless chargers, but there is no wireless charger included in the box. To make use of this feature, you will need to purchase a third-party wireless charger. You can get one by Mophie or Belkin for $60 on the Apple Store, or get an even cheaper one for half this price from companies like Ravpower and Anker selling on Amazon and Best Buy.