iPhone 7 poll: would you go for Black or Jet Black?
39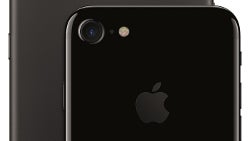 So, the new iPhones have just been announced and lo and behold – some rumors were right in claiming that we will see not one but two new colors. But while people were speculating on a
blue
and
black
variant, nobody ever dared venture a guess that what we are about to get is two black colors. Black and Jet Black, to be exact, are the exciting new paintjobs that you can get your
iPhone 7
and
iPhone 7 Plus
in.
What's the difference? Well, the regular Black is the good old matte finish that you can see and feel on other models just... you know – blacked out. This includes the Apple logo and antenna bands in the back — it's all stealthed out and, we have to say, pretty cool-looking.
The Jet Black edition is just as stealthy when it comes to the choice of colors, but it comes in a shiny, glossy finish. This means more fingerprints and more scratches over time — the latter has even been confirmed by Apple, who recommends using a case with the Jet Black iPhone 7. Still, it is, apparently, the more "premium" finish, as Cupertinians have decided not to release it in a base storage version. The iPhone 7 in Jet Black will only be available in 128 GB and 256 GB variants, while the regular Black spans the full range of 32 GB, 128 GB, and 256 GB.
But let's take storage tiers and price out of the equation. If you were to buy any version of the iPhone 7 or iPhone 7 Plus right now, which black would you go for?