iPhone 7 apparently outlasts the Galaxy S7 when submerged in deep water
99+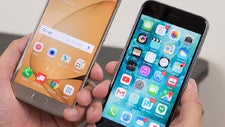 One of the very welcome enhancements that Apple has brought with the new iPhone 7 duo is the water resistance. Sure, they're not completely waterproof, and it's not something we haven't seen before. But as many will attest, once you've owned a handset that can be used in the bath without worry, it's a luxury that becomes a necessity.
As we've explained before
, the new iPhones' IP67 rating is, on paper, slightly less protective than the IP68 rating of many other devices like the
Samsung Galaxy S7
. However, a test on YouTube has shown that despite the numbers, the iPhone 7 can actually outlast its Samsung-made rival.
The measured test by YouTuber
EverythingApplePro
shows the two devices submerged at different depths for set lengths of time. Incredibly, both models managed to survive at 5, 10, 15, 20 and 30ft for five minutes each without any kind of internal leakage. Finally, at 35 feet, the Galaxy S7 apparently succumbed, though the efforts of both will surely instil confidence in owners of either handset.
It's certainly interesting that the iPhone's supposedly weaker defenses held firm where the Galaxy S7 couldn't hold. However, although the test seems legitimate, one has to acknowledge the fact that such an experiment could easily have been rigged.
The takeaway here is that irrespective of whether your device is IP67 or IP68 — most handsets with an IP rating are one of the two — it's not completely infallible. That said, though not recommended, you could probably get away with deeper submersion for longer than the ratings suggest. It pays to still proceed with caution, of course, particularly since water damage
is generally not covered by standard manufacturer warranty
regardless of IP rating.
You can check out the iPhone 7 vs. Galaxy S7 submersion face-off below: