iPhone 6 vs HTC One (M8): in-depth specs comparison
33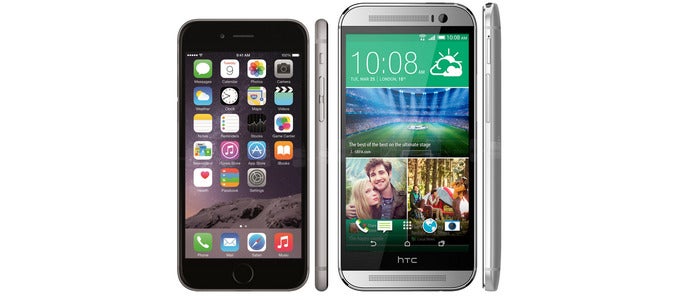 I am a gorgeous smartphone with a metal body, I run a stylish custom Android UI, and my stereo speakers output great sound. What am I? Those of you who answered "HTC One (M8)", treat yourselves to a cookie. Jokes aside, HTC's flagship is regarded as one of the best Android flagships right now. Sure, it has its flaws, but there's still a lot to love about it. Now, however, comes a phone that can give any high-end phone, the M8 included, some serious competition. That's the newly-announced
iPhone 6
, which i bigger, better, and bolder than any iPhone before it. Here's how it stacks up against the HTC One (M8).
Design
Looking at the iPhone 6 and the HTC One (M8) side by side, it is hard to say which smartphone is the better-looking one. That's because they both look highly attractive with their precisely-made, high-quality metal bodies. The colors they come in are also strikingly similar. However, we can think of a few advantages in favor of the iPhone 6. Most importantly, it is much slimmer, much lighter, and much more compact than HTC's flagship. The iPhone 6 measures 5.44 x 2.64 x 0.27 inches (138.2 x 67.1 x 6.9 mm) while the HTC One (M8) clocks in at 5.76 x 2.78 x 0.37 inches (146.36 x 70.6 x 9.35 mm). In terms of weight, the former weighs only 129 grams while the latter tips the scales at 160 grams. Plus, the iPhone 6 comes with a handy dandy mute button on the side, which lets you turn off the phone's sounds without even looking at its screen.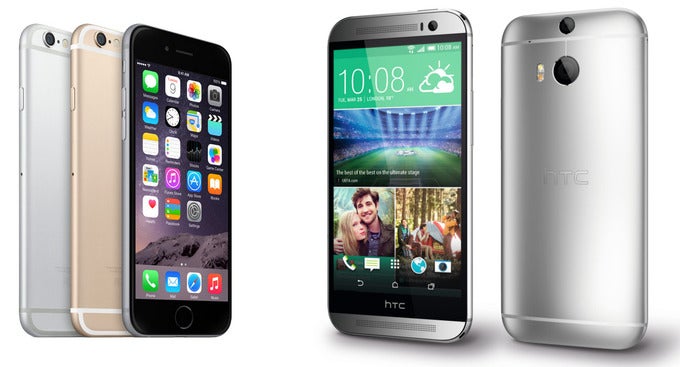 In the iPhone's signature home key is embedded the Touch ID fingerprint scanner, which is a very practical security feature. It allows one to use a fingerprint scan instead of a lock-screen PIN, for authorizing App Store purchases, and for confirming payments through Apple's upcoming payment service. The HTC One (M8), on the other hand, stands out with its pair of front-facing speakers, which are much more suitable for listening to music than the iPhone's mono speaker. Also, HTC's top phone comes with an infra-red blaster, which allows it to be utilized as a universal remote control.
Display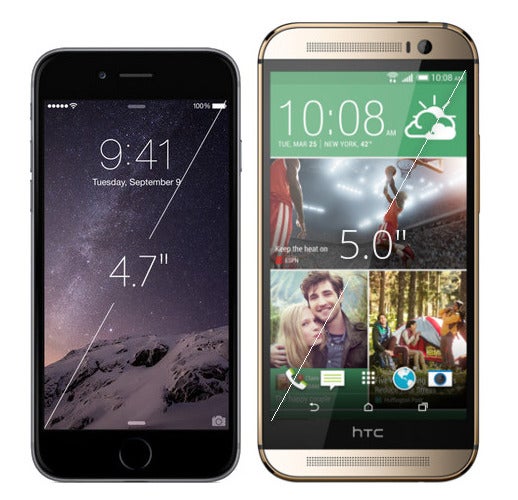 Here's where the HTC One (M8) has the upper hand. Its screen is not only bigger, but also packed with more pixels compared to the iPhone's display. Or if you're more into figures, the M8 has a 5-inch IPS-LCD display to offer, the resolution of which is 1080 by 1920 pixels, while the iPhone 6 comes with a 4.7-inch, 750 by 1334-pixel, IPS-LCD display. Of course, a size difference of .3 inches isn't that big of a deal, but it still counts as an advantage for the M8, making it better-suited for playing games, watching movies, and pretty much everything else people do on their smartphones.
Sure, pixels aren't all that matters. Factors like color fidelity and outdoor visibility are also of importance. And while the iPhone could have an edge over the M8 in these fields of expertise, we'll have to do some further testing to determine whether that's the case. We must also mention that the front side of the iPhone 6 is graced by an ion-strengthened piece of glass, which is expected to be highly resistant to scratching. How tough it is in real life and how it fares against Corning's Gorilla Glass are also things we're eager to try in the future.
Interface


So here's one of the key differentiating factors between the iPhone 6 and the HTC One (M8). While the former runs on Apple's iOS 8 operating system, the latter is an Android 4.4-based device running a customized version of the platform. What does this all mean? Well, first of all, the iPhone offers a better selection of quality applications. Plus, you're treated to some of Apple's mobile productivity apps, including Pages, Keynote, Numbers, and iMovie. But most importantly, iOS is still regarded as more reliable and user-friendly than Android, so it is for you if you favor software that just works.
Android, however, is still the more customizable OS among the two and offers a broad catalog of free applications. On the HTC One (M8) it is loaded in a customized form – the simple and stylish Sense UI is layered on top, bringing a truckload of handy features without cluttering the interface. Among them is the Ultra Power Saving Mode and the variety of launch gestures, which can be used for quickly accessing the camera or dialer from stand-by. Blinkfeed is also present. In a nutshell, it is a customizable feed containing both posts from various news outlets and the latest social network activity of your buddies. This creates a stream of relevant info designed to keep you in the know, and if you're not using Blinkfeed, you're free to turn it off.
Processor and memory
There's some serious silicon tucked under the hoods of both phones. The iPhone 6 stands its ground with the Apple-designed, A8 system-on-chip solution, which is built on a more power-efficient 20-nm process and features 64-bit architecture. Further technical details are scarce, but Apple's new chip is probably a dual-core one, paired with 1GB of RAM. In the meantime, the HTC One (M8) is powered by one of Qualcomm's most powerful chips, the Snapdragon 801, model MSM8974-AB, along with 2GB of RAM. Now, we have yet to test the two phones side-by-side, which is why we can't comment on their performance, but we have reasons to assume that neither of them lags behind the other. Sense on the M8 runs really smoothly, without lags or slowdowns, and the same is likely true for iOS running on the latest iPhone iteration.
Something that's found on the HTC One (M8) but missing on the iPhone 6 is a microSD card slot. It can be used for augmenting the M8's on-board storage with up to 128 GB extra, which is really neat. In contrast, if you want an iPhone 6 with more than 16GB capacity, you have no options except to purchase a more spacious model. And these don't come cheap – a 64GB iPhone 6 costs $100 extra, while the 128GB model will set you back an additional $200.
Camera

As we mentioned in the brief introduction above, the HTC One (M8) has its flaws, the most serious of them being its rather underwhelming UltraPixel camera with 4MP of resolution. Sure, the snapper takes good-looking photos given the right conditions, but overall, most other high-ends would run circles around the M8's camera in a one-on-one comparison. Even the secondary Duo camera can't remedy the situation, although the background blur and 3D effects that it allows you to apply to photos are kind of neat. Therefore, in a camera shootout between the HTC One (M8) and the iPhone 6, our money would be on the latter. To get into the technical details of it all, the iPhone 6 has an 8MP camera with phase-detection auto-focus. Its optical system has a more narrow aperture – f2.2 vs f2.0 for the HTC One (M8) – and 1.5-micron pixels populate the sensor, while the M8's camera sensor features 2-micron pixels, which supposedly capture more light.
But when it comes to front-facing camera performance, now that's a different story. There's a 5MP camera with wide-angle lens on the front of the HTC One (M8), and it is likely to smoke the 1.2MP shooter on the iPhone 6 if images from the two are compared.
On the software side of things, the HTC One (M8) stands out with its range of effects made possible by its secondary camera. You may apply background blur to your images, adjust the focus in images after they have been taken, and turn them into 3D-like renderings that tilt when the handset is moved. Another benefit of having an M8 is the access to true manual controls for things like focus, exposure, ISO, and white balance. But the iPhone 6 camera app is no less awesome. It is very simple to use and has some cool modes, including time lapse and 240 fps slow-motion.
Expectations
As much as we like the HTC One (M8), we can't say that it stands above the iPhone 6 in the smartphone foodchain. But it isn't inferior either, or at least it doesn't seem to be since it has a thing or two to stand out with next to Apple's new phone. HTC's flagship is for those who favor the openness of Android, who demand a larger screen, and who would love the higher quality of its built-in speakers. The iPhone 6, on the other hand, is more likely to provide a hassle-free experience and would be more suitable for those demanding a compact phone. The camera on Apple's flagship is also going to be better than the M8's UltraPixel snapper, it seems. That's pretty much all we can say for now. Expect a more in-depth comparison in the coming weeks!