iPhone 5s outpaces Galaxy Note 4 in this improvised speed comparison
99+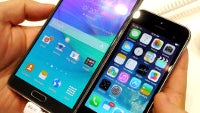 The
Galaxy Note 4
has just been unveiled by Samsung, and boy is it a true beast - not only does it feature a super-sized and bright screen, but it also packs that lovely Snapgragon 805 chipset that we've been dreaming of for quite a while. But, as cool as all of this sounds, what's also very interesting is how Samsung's latest and greatest phablet is going to fare when it comes to day-to-day operations. In other words, will it be speedy enough when we're executing regular tasks with it? Will it be able to keep up with the supposedly busy and multitasking-heavy lifestyle of its owners?
These are all questions that should be put to the side for the time being, seeing that the phone is yet to hit retail, but then again, we think it'd be safe enough if we just take a quick peek at a pretty important aspect of the Galaxy Note 4's performance: namely, the speed at which it opens applications. In order to get an idea of just how quick (or slow) the Note 4 is, we put it right next to an iPhone 5s, and just like that, we came up with a pretty interesting speed comparison between the two. As we said, the results here shouldn't be considered conclusive, because the Galaxy Note 4 unit that we're using for the test may be running non-final software, but it's still very interesting to how these two smartphones compare in that respect.
Interestingly, it looks like the iPhone 5s may end up being the faster phone of the two, at least when it comes to its basic system performance. Cold-starting apps such as contacts, messaging, and the camera, the iPhone 5s was consistently faster then its galactic counterpart. Not by much, but the difference is there. Check out how both handsets race against each other in the video below!