iPhone 5S design unchanged, will have gravity-defying properties
50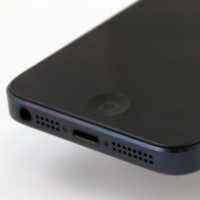 How's an iPhone 5S leak to start the new week with? This one reportedly comes courtesy of an anonymous factory worker who somehow managed to take a photo of a pre-production unit and then post it on a Chinese microblogging site. The image in question, now taken down along with the tipster's account, reveals not only the smartphone's design, but also its
mysterious "killer feature" that we heard about
a few weeks ago.
Apparently, Apple has developed some new kind of technology that
allows the iPhone to hover above flat surfaces
. The feature appears to have evolved from
this "airbag" concept
that is thoroughly described in an Apple patent from 2010. As far as we can tell, the purpose of all this is to protect the iPhone's aluminum body from scratches by ensuring that it does not come in contact with the surface it is placed on. Additionally, it might be able to prevent physical damage in case the handset is dropped.
The
iPhone 5S is expected to be officially announced in June
of this year, followed by a cheaper iPhone model, the name of which hasn't yet leaked on the web.
As many of you figured out, this was an April Fools' joke. Most of the statements above were made up while the photo was actually taken in our studio.