iPhone 5 to feature facial recognition APIs
41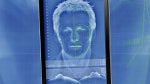 It looks like Apple is finally putting to use its acquisition of Polar Rose. Polar Rose co-developed the facial recognition app Recognizr with TAT (The Astonishing Tribe). TAT was then acquired by RIM and is working on bringing facial recognition to BlackBerry, while Polar Rose was acquired by Apple, and has brought facial recognition to the upcoming iPhone 5.
The news does have a twist though. Currently, there is no word that Apple is going to be using the facial recognition in any of the proprietary iOS apps. Apple has used the facial recognition in the newest version of Photo Booth found in OS X Lion, so it's possible that the mobile version of Photo Booth will also have the features, but it hasn't been confirmed. Instead, Apple has decided to open up APIs to allow 3rd party developers to use the facial recognition features in their own apps. The APIs include calls for positions of the person's right or left eye, and mouth.
Some will highlight that these open APIs will lead to far more interesting implementation than you might find had Apple kept the tech for its own personal use, and it is true that 3rd party devs will make some incredibly cool stuff with these features. However, we can't help but be a little cynical, and think that Apple only opened the APIs in order to avoid any personal responsibility in the privacy fire storm that facial recognition is sure to bring.