iPhone 5 production starting in September?
40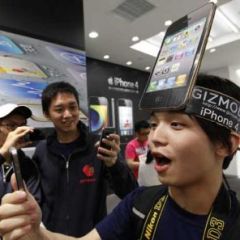 More than any other device, the Apple iPhone attracts rumors. We recently heard from two
Korean carriers
that the iPhone 5 would be announced and released in late June, but that timeline sounds unrealistic at best. Now, Avian Securities has offered a more realistic estimate of the
next iPhone
's arrival.
The Avian Securities memo says that "yet
another key component supplier indicates that production for iPhone 5 will begin in September
. This is consistent with Avian findings in the supply chain in recent months and we believe the consensus view is moving towards this scenario."
Production beginning in September sounds far more realistic,
putting the release date in late 2011, in time for the holidays, or in early 2012
. While it might seem odd for Apple to go without an iPhone release in 2011, it makes sense when considering the CDMA iPhone 4. While it wasn't a truly new device, it carried the same function for Apple's bottom line.
In the same memo, Avian Securities also touches on the possibility of a
lower-end iPhone
: "our conversations also indicate the existence of a lower-spec/lower-priced iPhone in Apple's roadmap. However, while our contacts have seen the placeholder in the Apple roadmap, they do not yet have insight into specs or production timing."
So that might mean that there is a top secret low-end iPhone in the works, or it might mean that Apple is merely considering it. Perhaps they want to make suppliers aware of the possibility, so they can't complain about short notice.
source:
Business Insider