iPhone 5 knock-off is out in China, swears it looks like the real deal
31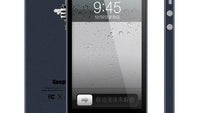 Table tennis is not the only thing that the Chinese are good at. They make some amazingly realistic knock-offs too, and to show you just how good they are at producing counterfeit merchandise, just take a look at this iPhone wannabe. In case you've been following the news lately, you will instantly notice that the handset looks exactly like what the iPhone 5 is expected to look like. You know, that
iPhone 5
that Apple has not even announced yet.
Obviously, someone was clever enough to produce a real, working smartphone with design based on those alleged
iPhone 5 components
that have been leaking from here and there. The handset that you see pictured is known as the Goophone i5 and is powered by Android, as indicated by the logo on its back. In case you are interested, its specs are as follows: 3.5-inch display with resolution of 640 by 960 pixels, 1GHz processor, 512MB of RAM, 5MP camera on its back and a 1.3MP one on its front.
Yet the Goophone i5 is not the first high-end smartphone knock-off to come from the same manufacturer. On its website you can find a clone of the
Samsung Galaxy S III
, among other products. Of course, the look-alikes sell for far less than the genuine smartphones – well under the $200 mark. Given their dubious build quality and inferior hardware, however, getting one of them wouldn't be a very wise thing to do.
Recommended Stories