iPad free falls from space, survives to tell the story
17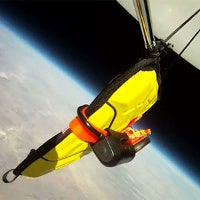 If you're a case maker for iPads, you really have to make something unique to stand out in the market. G-Form, makers of the Extreme cases for iPads, have just taken unique to the next level by launching the iPad in space. Or at least if we take a very vague definition of space - a distance over
100,000 feet above our planet
. The official definition is more than three times that but let's not be formalists here.
An iPad clad only in a G-Form Extreme Edge case was elevated to that height and then it was left to free fall back to Earth. The outcome? Yep, it survived and worked as if nothing happened.
G-Form with their Extreme case have a track record of dropping, throwing and driving over iPads, and the tablet has survived in all of the circumstances. Would that be enough to protect it from a kid, though? Our bet is yes, but you let us know how it fares if you own one.
PROVIDENCE, RI (January 6, 2012) – G-Form, a company well known for delivering the most extreme electronics cases and athletic pads, launched an iPad clad solely in the company's 6oz Extreme Edge case into space and then let it free-fall back to Earth.
The company released a stunning hi-def video Thursday where the nearly naked iPad is shown hanging above the Earth in the blackness of space. In the video, the iPad is lifted to over 100,000 feet by a weather balloon which bursts at altitude, then releasing the iPad to free-fall to Earth where it crash lands on a rocky hillside in the Nevada countryside. Perhaps even more remarkable than the dramatic hi-def footage itself is the fact that the iPad survives the adventure, remaining fully functional.
"As far as we know, this is the first iPad ever in space," said G-Form's VP innovations, Thom Cafaro, "And definitely it's the first iPad that's ever free-fallen from space and survived to play more movies. We are usually known for making the most protective gear on the planet," he continued," so we decided why not raise the bar to off the planet too."
G-Form will be exhibiting its full line of products, including its rugged cases for electronics, protective gear for athletes, as well as unveiling its new iPhone case at CES 2012, which applies this same impressive technology to your mobile device to offer the utmost in protection. Live demonstrations will be done including dropping bowling balls on iPads, and more. Booth # 35661 South Hall
For more information on G-Form, its latest stratosphere demonstration video, or its new iPhone case, please contact PR representative Kristen Bean at kristenbean@maxborgesagency.com or 305-371-9736 x 123.
About G-Form
G-Form is committed to changing the state of the art in athletic and electronics protection. Founded by athletes who use the products and compete, G-Form's new technology including RPTTM – Reactive Protective Technology is truly Impact Protection, Revolutionized.http://www.g-form.com