iPad and PlayBook in fight over military market
3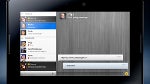 It seems consumers are not the only ones who want to taste the sweetness of latest technology. The U.S. Army, for example, is eyeing tablets as gadgets that can potentially substitute the ruggedized laptops it currently relies on. But which model do the services want?
According to a Bloomberg report, the military is currently leaning towards the
BlackBerry PlayBook
, because of RIM's servers, which seem to comply to the Army's ultra-high security standards. Unsurprisingly, the other model that's also considered is the
Apple iPad
, which, however, still has to be improved in that respect, as stated by Lieutenant Colonel Matthew Dosmann, who supervises mobile device pilot-testing for the military's cybersecurity division.
Just as you'd think that RIM has positioned itself nicely here though, as it did with the business sector, things doesn't seem so rosy for the Canadian manufacturer. The advantage it currently has may soon be lost, as the iPad is said to be well on its way to gaining Defense Department security certification.
With that said, which tablet will end up serving for military purposes remains to be seen, although the Army does seem pretty sure it wants the tech, as it will cut costs for communication devices, which may also replace paper manuals, biometric devices, as well as maps. Naturally, one factor that drives the tablet's adoption with the services is the increased mobility, while others are purely financial – a tablet for the military is expected to cost about $500 to $600, which is less than half the price of the ruggedized laptop units that are currently in use.
source:
Bloomberg