iPad 2 with a Smart Cover featured in a non-smart drop test
9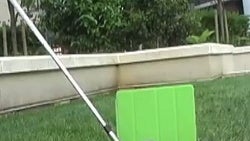 Okay, so you've got the iPad 2 and you're wondering:
can it survive a waist high drop?
Fear not because: a) you're not alone and b) it might. It takes a group of Apple apostates who have self-willingly sacrificed two of the super slim tablets for a series of cold-blooded nearly scientific drop tests. First off, they started with a
waist-high drop
of a smartly covered iPad 2 on one hand and a plain non-protected iPad, both featured in this experiment which you should definitely not try to re-enact in your homes. Both iPads dropped on the cement with a crack, much like the one you might get if you're among the weak of heart in the iCrowd. The second test involves dropping the said tablet from an even higher distance, and some golfing adds to the fun in the end, but hey don't expect us to spoil all the fun – check out the video below for the outcome!
source:
All Things D
Recommended Stories