iPad 2 and iOS 4.3 show big improvements in JavaScript performance
8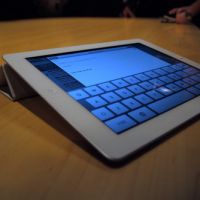 From the hardworking rumor mill that surrounds Apple, we knew the
iPad 2
was going to be impressive. But perhaps we weren't prepared. The crew at CNET UK took the liberty of performing benchmark tests with the SunSpider JavaScript Benchmark.
They found that the iPad 2 is up to four times as fast as the original iPad. But that improvement wasn't solely due to hardware improvements. To compare, they loaded an
iOS 4.3
beta on an original iPad, and found that the iPad 2 was only 1.5 times as fast. This bodes well for other iOS devices receiving a 4.3 update. The iPhone 4, for example, should become 1.5 times as fast with iOS 4.3.
Comparing the
iPad 2
to their Android rivals, CNET UK found that the iPad 2 was three times faster than the Galaxy Tab, and three times faster than a Google Nexus S. Considering both the performance of iOS 4.3, and the recent
price-reduction
of the original iPad, Android devices might experience more
immediate
competition from the original iPad, rather than the iPad 2.
We should clarify that JavaScript performance isn't everything. But it does mean a lot, particularly if web-browsing is your primary tablet activity. CNET UK specifically mentions that complicated sites like Facebook will run smoother and quicker, when running on a stronger JavaScript platform.
source:
CNET UK
via
TUAW