These iOS vs Android state-by-state maps tell if Democrats really prefer iPhones more
21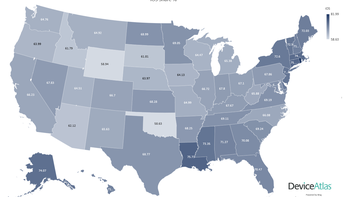 Hot on the heels of the US midterm elections, the researchers from
Device Atlas
have tried to map another state-by-state divide, of Android- vs iOS-heavy states. Yep, they even tried to take the 2016 presidential election numbers and cross-check the Apple vs Google mobile rivalry with the Democrat vs Republican voters.
It turned out there is indeed a slight tendency of blue states to use more iPhones and iPads than red-leaning states, but the difference is actually not that huge. Instead of Apple's average iOS market share in the US which currently sits at 65%, in the 14 states where the Democratic nominee got more than half of the votes, the iOS users' share is a bit higher at 70%.
On the other hand, the 23 States that voted predominantly for the Republican candidate in the 2016 election, have a slightly smaller, 67% piece of the pie marked with iOS on it than "blue" states. As you can see, the difference is not significant enough to make drastic conclusions about the anecdotal evidence that Democrats prefer iPhones, while Republicans lean more to the Android camp.
The state of the mobile union tends to lean iOS in both red and blue states
In the end, the share of America's homebrew iPhone and iPad brands is what's the biggest news here, as it seems that more people are doing their patriotic duty to buy the Apple logo compared to Samsung, LG, or other non-locals.
Google may be trying to change the status quo with its fledgling Pixel brand but the numbers are showing a steep hill to climb still. Check out the Android vs iOS share state-by-state maps below, it's a fascinating take on the state of the mobile nation.